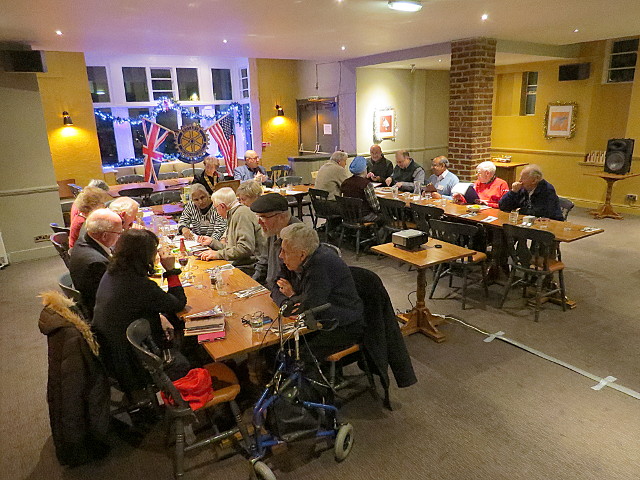 Our meeting on 04 December 2019 was the Club's Special General Meeting at which the officers for the next Rotary Year, starting on 01 July, are confirmed by the Club.  The Club took the opportunity to try out a new sound system (see above on the right) and towards the end of the meeting voted 'nem con' to adopt the new equipment.
Before the real business began however, our thoughts turned to those members of the Club not enjoying the best of health.  We had good news in the form of a new granddaughter, and we learned that our candidate musical group for the Youth Makes Music concert had been successful.  We were told that the"Kids Out" pantomime tickets have all been allocated and four members for the Club Quiz Team were found.  The Club will also be ordering 80 Dictionaries for primary school leavers.  There was also a discussion on our weekly raffle.
The Club also decided unanimously that it would make up the small shortfall on the fundraising exercise for the Defibrillator from Club funds.  Given that we are entering the season for charity collections, our member Dick gave a short presentation on techniques for success.  Towards the end of the evening, the Club agreed the budget for the Widows of former members, and the cost of replacement badges.  We then elected the officers for 2020-2021 as follows:
| | |
| --- | --- |
| Club President | Siva Thaiman |
| Club President Elect | Andrew Baldwin |
| Club Secretary | Lucille Parker |
| Club Treasurer | June Nathan |
| Club Assistant Secretary | Mike Stonham |
| Club Assistant Treasurer | Andrew Baldwin |
| Club Representatives for ABM | Dick Nathan |
Next week is our festive Christmas Meal, and we were given a 'trailer' of the entertainment.