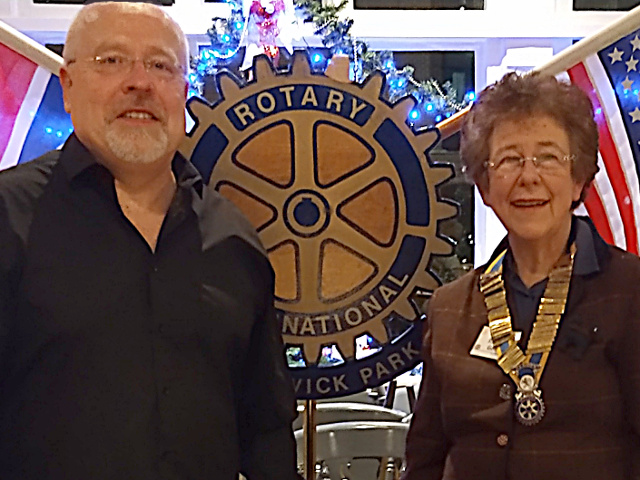 Our meeting on 27 November 2019 featured a visiting Rotarian, Mike Ware, from the Rotary Club of Bourne End and Cookham in the Thames Valley (District 1090) who came to talk to us on the work of his club with primary school children (RotaKids), secondary school children (Interact) and University Students (Rotaract).
Before Mike spoke to the Club and showed us his photos, we heard about the plans for decorating our Christmas Gazebo, the days for collections, our Grant Application Project, our Interact Club's Disco and the Youth Makes Music auditions panel.
Mike was then centre stage with a three part talk.  The first dealt with the activities on the Rotakids Clubs working with his Club, and the fundraising activities of the Interact Clubs at Heathrow Airport for Children in Need.
The second part dealt with the day to day activities of the Clubs, including a link between one school here in the UK with another school in Lusaka, Zambia.  Mike was inspiring in talking about the achievements of the youngsters, and about their ability to say things directly!
The third part introduced us to a new style Rotary Youth Leadership Award (RYLA) being run by Mike's Club in association with the Institute of Leadership and Management, to provide alternative qualifications to GCSE qualifications.
Mike's enthusiasm – and the enthusiasm of the youngsters – left us quite exhausted!  Once we recover, we too must start searching for young people to take up Rotary's programmes!