Welcome to our Banner Register.
When Rotarians visit another Club, they often take a Club Bannerette with them as shown below. Often the Club they visit will exchange our banner for theirs, and that allows the Rotarian to bring back their banner and their good wishes to our Club.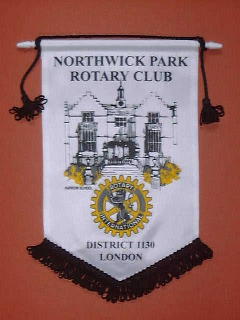 Because we have so many banners, we divide them into:
This page will be updated from time to time as required.
Copyright 2022 The Rotary Club of Northwick Park.
All Registered Trademarks are acknowledged.
Please contact our Webmaster with questions or comments.