ROTARY INTERNATIONAL
Rotary International is an organisation of business and professional leaders united worldwide, who provide humanitarian service, encourage high ethical standards in all vocations, and help build goodwill and peace in the world.  Rotary International's motto is "Service above Self".
THE BACKGROUND OF OUR WORLD PRESIDENT Shekhar Mehta from India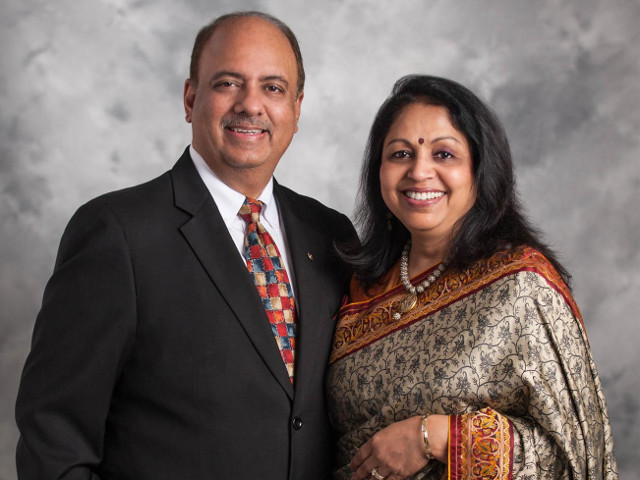 Mehta, an accountant, is chair of the Skyline Group, a real estate development company he founded. He is also a director of Operation Eyesight Universal (India), a Canada-based organization.
Mehta has been actively involved in disaster response and is a trustee of ShelterBox, UK. After the 2004 Indian Ocean tsunami, he helped build nearly 500 homes for families affected by the disaster.
He pioneered a program that has performed more than 1,500 life-changing heart surgeries in South Asia. He is also the architect of the TEACH Program, which promotes literacy throughout India and has reached thousands of schools.
A Rotary member since 1984, Mehta has served Rotary as director, member or chair of several committees, zone coordinator, training leader, member of The Rotary Foundation Cadre of Technical Advisers, and district governor. He is also the chair of Rotary Foundation (India).
Mehta has received Rotary's Service Above Self Award and The Rotary Foundation's Citation for Meritorious Service and Distinguished Service Awards.
He and his wife, Rashi, are Major Donors and members of the Bequest Society.
Presidential Initiatives
Equality is a fundamental human right, and it's necessary for a peaceful, prosperous, and sustainable world. Still, girls and women worldwide face inequities in areas including health and education and experience significant violence and disproportionate poverty. Rotary encourages clubs and districts to prioritize projects that improve the health, well-being, education, and economic security of girls in their communities and around the world. Take on a club-based initiative, a district grant, or a global grant that engages members of your community in a project that will protect and empower girls and increase equity by ensuring their access to resources that will improve their lives.
WHAT IS ROTARY INTERNATIONAL'S OBJECTIVE?
The object of Rotary is to encourage and foster the ideal of service as a basis of worthy enterprise and, in particular, to encourage and foster:
The development of acquaintance as an opportunity for service
High ethical standards in business and professions the recognition of the worthiness of all useful occupations and the dignifying by each Rotarian of their occupation as an opportunity to serve society
The application of the ideal of service by every Rotarian to their personal, business, and community life
The advancement of international understanding, goodwill and peace through a world fellowship of business and professional persons united in the ideal of service.
WHAT IS ROTARY'S VISION?
"Together, we see a world where people unite and take action to create lasting change — across the globe, in our communities, and in ourselves."
Click Here to visit Rotary International Headquarters in the USA
Click Here to visit Rotary International in Great Britain and Ireland Headquarters
Click Here to visit Rotary District 1130 Headquarters, Greater London
Copyright 2022 The Rotary Club of Northwick Park.
All Registered Trademarks are acknowledged.
Please contact our Webmaster with questions or comments.