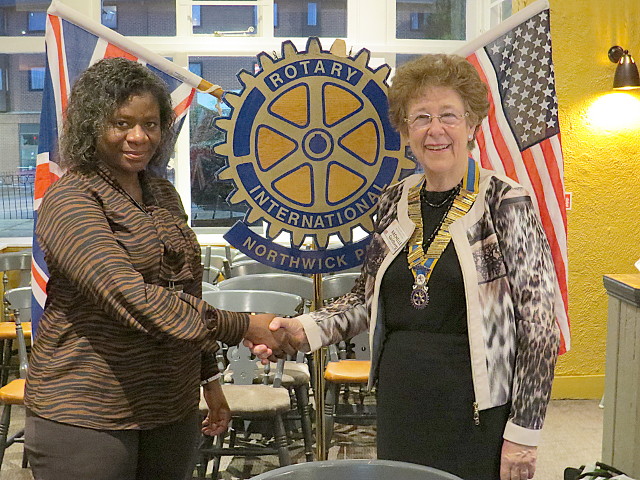 Our speaker on 21 August 2019 was Chonde Nkowani from the Harrow Food Bank.  Before Chonde addressed the Club, we heard about the Blood Pressure Day in detail and the  person who was referred to their GP with a high reading.  All those involved in the event were thanked by President Rachelle.  We also heard about the North London Disability Games taking place on Sunday 13 October 2019 at the Aspire Sports Centre, Stanmore.
It was then time for Chonde to talk about the Harrow Food Bank which is run using the Trussell Trust's template for food banks. The aim of the food bank is the relief of poverty and hunger in Harrow.  We had details of the opening times of the various locations and the details of how many clients were served in the past year.  Some 51 tons of food was received in the previous year.  Chonde provided an example case showing how different crises in the life of an individual, happening in close proximity, led to the client being unable to afford to buy any food.
The Harrow Food Bank does not assess the needs of individuals or families – there are other agencies to do that.  The clients come to the Harrow Food Bank with vouchers for free food for 3 days up to 3 times in 6 months.  The Harrow Food Bank does have limited discretion in special cases.  The food that reaches its best before date and is not taken from the Pick Table is offered to other charities that will cook and serve the food that day.
Demand for the Food Bank is rising at 24% p.a. and there is concern that Universal Credit may make matters worse, so they have developed 3 goals:
Make the Food Bank available for more hours, and deliver to those that cannot visit.
Clients are no longer hungry and are more aware of the service providers.
The long-term causes of food crises are addressed and resolved.
An interesting talk that led to many questions.  Thank you Chonde!