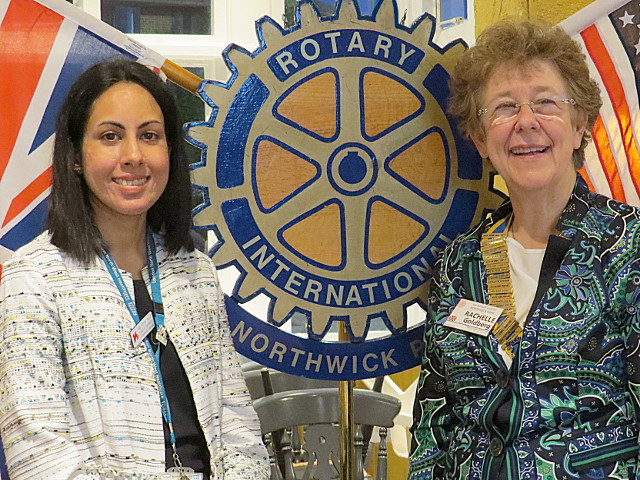 Our speaker on Wednesday 28 August 2019 was Riyah Talati, the Fundraiser for St Mark's Hospital located in Harrow.  Before Riyah spoke however, we had some good news from a Lawn Bowls player in the Club, and we learned that we will be counselling a Global Scholar from Japan later this year – Shusei Kawara.  The Club will repeat last year's Saturday Night dinner during the District Conference.  We also got more information on the North West Area Membership evening on 26 September and on the Dementia Club meeting on 03 September.  Finally we got a chance to wish our member Lucille a speedy recovery.
Our speaker was then introduced by President Rachelle. Riyah told us about St Mark's Hospital and Academic Institute.  The hospital was founded by Frederick Salmon in 1835, and moved to its location in The City Road in 1854.  Its title then described what it still does today – The Benevolent Dispensary for the Relief of the Poor Afflicted with Fistula and other Diseases of the Rectum.  Amongst its famous patients was Charles Dickens.
It moved to the current Harrow Campus in 1995.  Being a centre of excellence in its field combined with its high academic standing, some 60% of its patients are referrals by doctors deciding that the experience and ability of St Mark's experts  are essential for their patient's well being.  One area of development pioneered by St Mark's is the Virtual Colonoscopy. Whilst many can imagine the discomfort of the real examination, the option of a virtual examination (using a special scanner) seems to be favoured.  The hospital is a recognised centre of excellence in interpretation of the scans.  It is also becoming an internationally recognised centre of expertise in robotic surgery, allowing the surgeon to sit and operate at a console rather than having to stretch and bend over the patient's anatomy to reach the parts that need treatment.  Whilst the NHS funds the healing activities of the hospital, the research work is not funded and that was the burden of Riyah's presentation.  A difficult topic covered with sensitivity and humour by Riyah.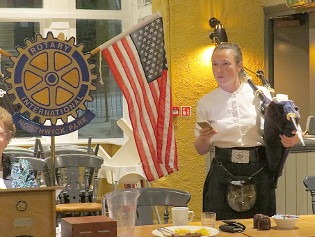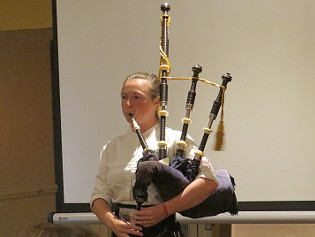 After such a serious subject, our Global Scholar from Canada, Katie Fettes, lightened the evening and paid her final visit to the Club, treating us to a poem she had dedicated to the Club, and a medley of Scottish tunes on the bagpipes.