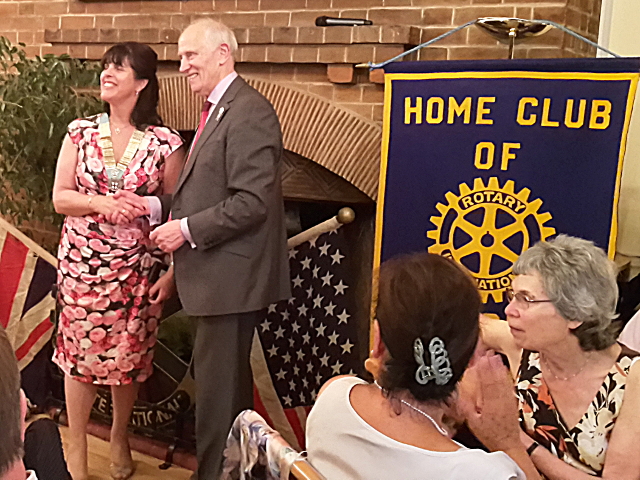 A strong group of members from our Club went to Porters Park Golf Club on Saturday 4 July 2015 to see our new District Governor being inducted by our outgoing District Governor.
David Palmer gave a comparison between the goals he had set himself in July 2014, and the achievements that the District had made by 30 June 2015. David mentioned the Minibus project and how its completion had been delayed by 12 months through no fault of the District, Membership targets, the Vocational Training Team that had gone to India, giving to the Rotary Foundation, Silverline – including his experience at Grange Opera, and growth in Rotaract – an achievement that resulted in a Best District in Great Britain and Ireland Award at the Belfast Conference. He also touched on Canine Partners where double the goal had been achieved by his parachute jump. He also spoke about our District's loss at the unexpected death of District Governor Nominee Jeremy Jessel. His thanks to many Rotarians included the presentation of a Double Sapphire Paul Harris Fellowship to our member Sydney Parker. He also thanked St James's place for their sponsorship of the District Conference.
With that Toni was inducted as our District Governor, and the elected officials were presented with their collars for the coming year. Toni's goals centred on Retention of Members and Continuity of Good Work. Support for our friends in Ukraine will continue as will Silverline and our Focus on the Crocus project for End Polio Now. There will be a focus on the Worlds Greatest Meal (see our Club's effort in February 2015) and its Olympic-Style Torch. Partnership with Rotaract will receive continued support. Rotarians were also encouraged to look at the Global Rewards Programme on the MyRotary web site.
With that, the Home Club banner was handed over by Barkingside (David) to Edgware & Stanmore (Toni) and our evening was done.