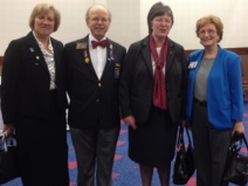 On Tuesday 9 April at The Royal National Hotel a good evening of fellowship and inspiration was enjoyed by 20+ members of the Rotary Club of Northwick Park as well as members of numerous other London clubs.
RIBI President Elect, Rtn Nan McCreadie, gave us her interpretation of next year's Rotary theme, Engage Rotary, Change Lives. She put great emphasis on all Rotary clubs ensuring they put great efforts into attracting new members, of any age. We must also ensure that our clubs move forward and don't dwell on past achievements, great as they undoubtedly are.
Incoming District Governor, Dick Nathan also gave us his thoughts and vision for 2013/14 and spoke of our future of having fun while carrying out all the avenues of service for which we are renowned. Dick told us we need 5 measurable plans to carry out our legacy project. He'll be bringing back the Presidents think tank in order to get new and varied ideas for other service projects etc. He's also trying to get adverts on buses to promote Rotary. A great idea.
Good luck to Dick and his team for what should be an exciting and rewarding year.
A very good evening enjoyed by all those present.