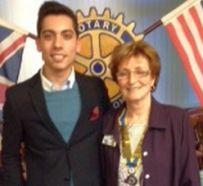 Our speaker on 3 April, Gilmar Queiros, was not a past Rotary Scholar as advertised, but a first year undergraduate. He told us all about himself and his difficult childhood.
He was born in Connecticut USA to Brazilian parents. He has a sister who is five years older than him. His parents divorced when he was four. His mother took him and his sister to Brazil. He has had very little contact with his father since then, although his father did pay for child maintenance.
His mother had mental illness and was in and out of clinics for many years.
He told us that, in a reversal of roles, he took care of his mother and the running of the house from the time he was eight years old when his sister also started to suffer from depression.
Gilmar decided that the best way to have a better future was through education. He was proud to have won numerous competitions in various subjects. He found Rotary through a speech competition, where he won 400 USD two years running.
When he was 15, he moved back to Connecticut USA to live with an aunt and get a better education. He is now at Regent University, not part of London University, as a first year student taking International Studies. He has thrown himself into student life and is involved with extra activities such as becoming president of the student council. He won a partial grant and has taken out student loans. But the money is running out, and he is not sure how to fund next year.
He is bi-lingual in English and Portuguese, speaks good Spanish and is learning French. He hopes in future to work for the UN organisation.
On the same evening, we welcomed back Roy from his annual six monthly sojourn in Australia. You're looking fair dinkum Roy!
It's good to report that twenty of our members are attending the District Assembly Dinner on 9 April to give our full support to our own District Governor Elect, Dick.