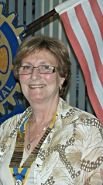 Our meeting on Wednesday 1 August was the first of our new look discussion evenings. Tonight's theme, suggested by President Sandy, was "What makes you laugh".
The evening started with something far from humorous! Arnold Green fainted at the dinner table (no reflection on the food; it was before the meal!). Jane sprang into action and went to the bar to insist on an ambulance being called and a doctor soon came to Arnold's assistance. The paramedics soon followed and their combined magic soon brought Arnold back into the land of the living. Some tests were carried out in the Ambulance and Arnold was soon back with us to enjoy the evening.
Many of the club's members in attendance, gave us a good idea of their senses of humour with a variety of jokes, anecdotes, one liners and other forms of humour. In the end, a good evening of fun and fellowship was enjoyed by all including our guests, Frank de Silva, Joel Winston and Watti's wife,  Francesca.