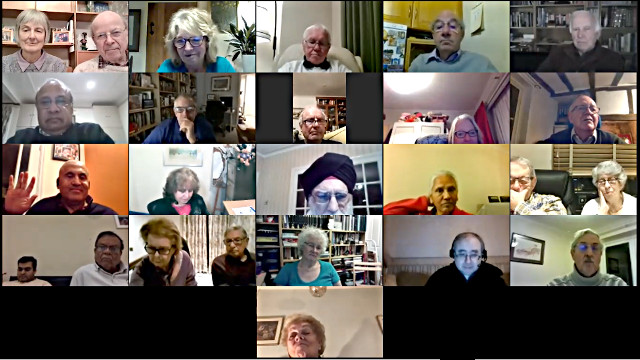 Our meeting on 27 January 2021 featured the Rotary Aquabox Project and introduced us to Roz Adamson, a Trustee of the Charity behind the project.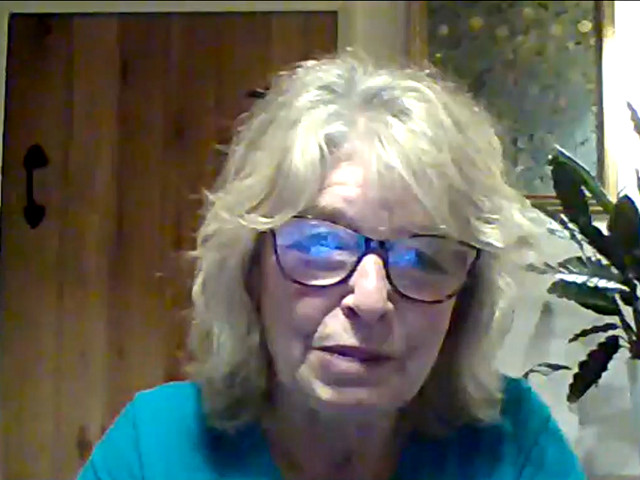 Roz gave a talk filled with information and background on the Rotary Aquabox project. The Rotary Aquabox Project has kept its affiliation with Rotary, and is run under the auspices of the Rotary Club of Wirksworth in Derbyshire.
In a tour of the trouble spots around the world, Roz took us country by country to see the problems, whether natural or man-made. She then illustrated how Rotary Aquabox is helping people reconstruct their homes and reconstruct their lives through the provision of safe drinking water.
One of the important changes made to the box over the years was the means of producing safe drinking water. Many years ago, there were chlorine tablets, fine mesh muslin and a charcoal filled cartridge filter. With recent updates, things are now much more reliable and palatable. There is a filter unit based on 500 micro-straws that is operated by a handpump. The holes in the walls of the micro-straws do the hard work as they are 1.5 microns in diameter – that is about 1/1000th of a millimetre. Holes that size will let water pass through, but all bacteria and viruses are too large to pass through, as are any heavy metal molecules. The result is safe, clean drinking water. The units do need their rubber O-rings on the piston replaced from time to time, and a supply is hidden inside the pump handle itself. The unit can be 'back-flushed' once a year, returning it to As New condition. The unit has been in use for more than 7 years in some field locations.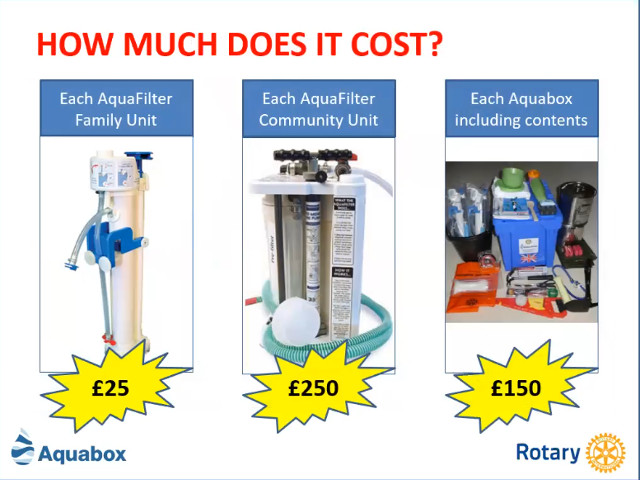 The Family Unit (one filter) costs £25 and will produce 1 litre per minute – enough for a family of 5-6 people. The Community Unit produces 6 litres per minute and will provide enough for a community of up to 500 people and costs £250. The Gold Box provides essentials and safe water for two families, with tools, a stove, cooking utensils and more costs £150. One of the ways in which Rotary Aquabox keeps these costs down is by assembling the filters themselves. That actual process takes about 3 days as various applications of glue have to cure before the next stage can begin.
There is a long list of locations patiently waiting for their boxes to arrive, and the demand never ceases, and for this reason many Rotary Clubs fundraise for this project. Examples were given in abundance, often with the help of other organisations either handling transportation, or providing safe passage for the equipment through war-torn countries.
This was an absorbing talk professionally delivered by an excellent representative of Rotary Aquabox.