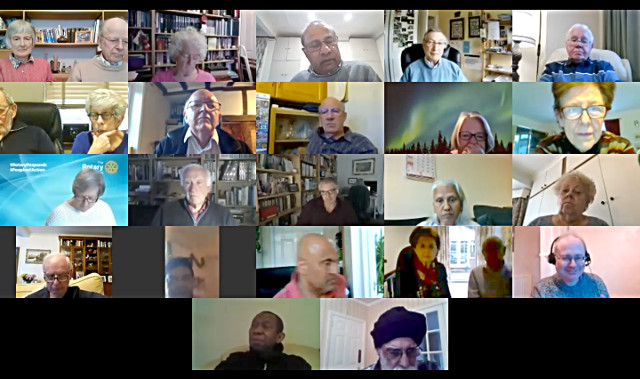 Our meeting on 05 May 2021 was a discussion meeting.  After the usual reports on the Welfare of the Members, who had visited where, and what other news needed to be announced, we settled into our discussion.
The future structure of Rotary is about to be decided for the whole of Great Britain and Ireland at a national 'virtual' meeting later this month.  When Rotary arrived in Great Britain and Ireland in about 1910, the Clubs reported back directly to the Chicago head office.  That changed in the 1920s.  In order to speed up communication, a local British Association of Rotary Clubs was set up near London, and to provide a 'local' service to the Clubs in Great Britain and Ireland.  The local office was later renamed Rotary International in Great Britain and Ireland, and more recently changed again to Rotary Great Britain and Ireland.
For most of this time, the chief Rotarian in each geographical district took part in a 'national' council that made decisions and rules.  An offset of the council was set up and given the task of day to day management of the organisation, on behalf of the council.
In May 2021, the plan is to agree to change the council of elected representatives into a smaller board of managers who will run the organisation.  The elected representatives will now form a discussion forum and relinquish their control in favour of the board of selected managers.
The concept has merit in terms of 'employing' talents and skills, rather than winners of elections.  But it also has issues that needed debating.  The Club will vote at the national meeting, and considering the pros and cons of how it should vote on the new arrangements led to an interesting discussion.
At the meeting the Club agreed to donate £500 towards an appeal it had received from the Rotary Club of Nagpur Downtown in Maharashtra province in India, and it also heard about an appeal to fund Oxygen Concentraters from Khalsa Aid (https://www.khalsaaid.org/news/india-covid-relief) which had been featured in a television news programme.