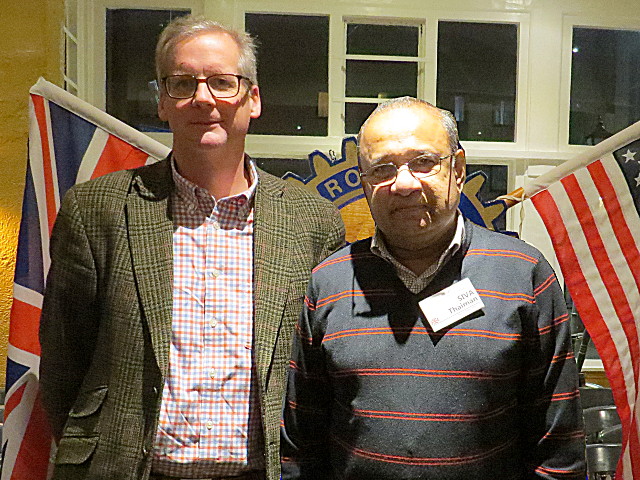 Our speaker on Wednesday 05 February 2020 was Anthony Rickaby who had completed a 'Camino to Santiago', but before he told his tale we heard about the Past Presidents Dinner at the Rotary Club of St Marylebone, and visits to our new Rotakids Club and our Interact Club.  The Good News slot was filled with news of grandchildren, and the news that a marathon runner, advised by his doctor not to run, would now be swimming a marathon!
A new club handbook was circulated, and the numbers attending a local quiz night were confirmed.  A board went round again for Youth Makes Music on 03 March.  The Club will be doing Blood Pressure Checks at Morrisons Supermarket on Saturday 16 May 2020 from 10:00am to 6:00pm as part of Stroke Prevention Day being run by the Stroke Association.
It was then time for our speaker, Anthony Rickaby.  He had given up work just over a year ago, and it had been suggested that he fill the gap left by work with a 'Camino' – that is the on foot pilgrimage to Santiago de Compostela.  He chose St Jean Pied de Port in France as his point of departure, and walked some 500 miles in 24 days to reach his destination –  Catedral de Santiago de Compostela.  Unlike many pilgrimages, it is not so much about the destination as about the journey itself.  The pilgrims follow a series of yellow arrows on signposts, and know they are on the right route when they see signs with scallop shells.
On the route, there is great camaraderie amongst the walkers who keep meeting others on the same route, and there is fatalism that there will be a meal and a bed somewhere at the end of the day. Anthony had diligently spent hours learning Spanish only to find that most of his companions spoke French, Korean or Brazilian Portuguese! We had many photographs taken on the route, and we finished with the three spires of the Caterdral.  A fascinating talk that drew us all in to his experiences on the 'Camino'.