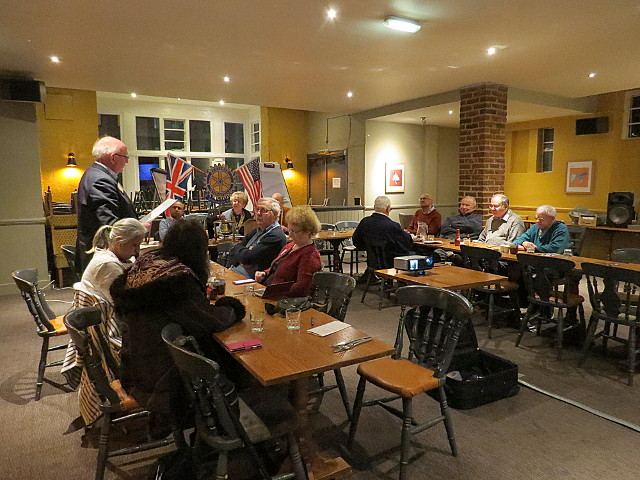 Our Meeting on 19 February started with a minute of silence in memory of former member Rob Harris, but then turned out to be a Second Special General Meeting – or a continuation of the meeting on 04 December 2019!
We started with reports, as per usual, and heard about the District Council Meeting the previous week, the decision to hold the District Conference near Oxford (Milton Common) between 16-18 October 2020, a report on the Multi-District Leadership Development Forum and the return to Regional Assemblies.  There was much good news varying from a Pizza Order phone call made to a 911 call centre, a fundraising through hair loss scheme for a patient with myeloma, the Club's Defibrillator Grant had come through and the tickets for Youth Makes Music have arrived.  We also heard about our local schools' activities in the Rotary Youth Competitions and the plan not to hold a Youth Exchange Camp in London in 2020.
We then had a short video from Wim Leerman, a Rotarian from Belgium, providing a report on recent market research studies undertaken by Rotary International in 15 countries around the world.
We then went back to last December's SGM only to find that some posts now had candidates.  Andrew was elected Club President 2021-2022, and confirmed as both President Elect and Assistant Treasurer for 2020-2021.  Dick had been elected as a voting delegate for the Annual Business Meeting in May 2020, but a second candidate and an alternative candidate were still to be found. Dick pointed out that the deadline was 01 March 2020.
The meeting closed with the discussion of a computer tablet for a local student, and Dick was assigned a budget of up to £200 once a specification had been received from the school.