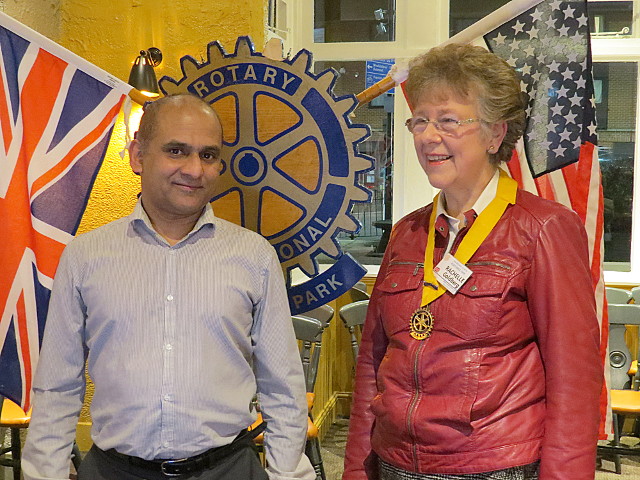 Our speaker on Wednesday 20 February 2019 was Cyriac Abraham from Mary's Meals.  For the meeting, we were joined by representatives from the Rotary Clubs of Barnet, Dulwich Peckham and Crystal Palace, Harrow, Hendon, Kingsbury and Kenton, Mill Hill and Norwich St Edmunds.  Also in attendance were our Assistant Governor and our incoming Assistant Governor for next Rotary Year.  The cause of our expanded numbers was the celebration of Rotary's 114th Birthday on Saturday 23 February.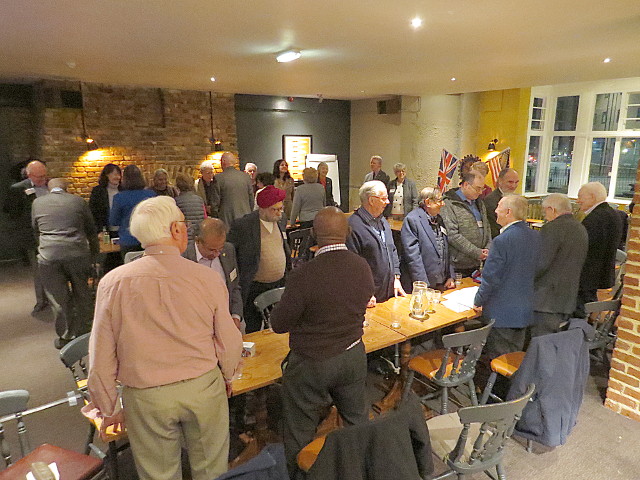 Assistant Governor Scott strongly urged the Club to attend the District Assembly Dinner on 25 March 2019, the President Elect Training Seminar, and all the Service Seminars being run in May.  We also had reports of visits from as near as Kenton and as far as Frankfurt.
It was then time for Cyriac Abraham.  With a mixture of video and web pages – fortunately there was no football match to absorb the venue's bandwidth that night – we were shown a series of people who had benefited from Mary's Meals.  We were also introduced to the founder Magnus MacFarlane-Barrow who had formed the organisation following his experiences in tbe Bosnian war.  Magnus had realised there that the only way to rebuild society was one person at a time, and he chose to concentrate on getting the children into school so that they could earn they way out of poverty.  Their guaranteed meal at school proved an effective draw.
Several important facts were underlined.  Until the end of this month, the UK Government will match (up to a maximum of £2m) any donation made to Mary's Meals.  Of every £1 donated, 0.93p is actually spent on their charitable work.  Around the world, every two minutes 31 children die of hunger.  Mary's Meals currently feeds 1,425,013 children every day at their schools.
Thank you Cyriac for an interesting talk.