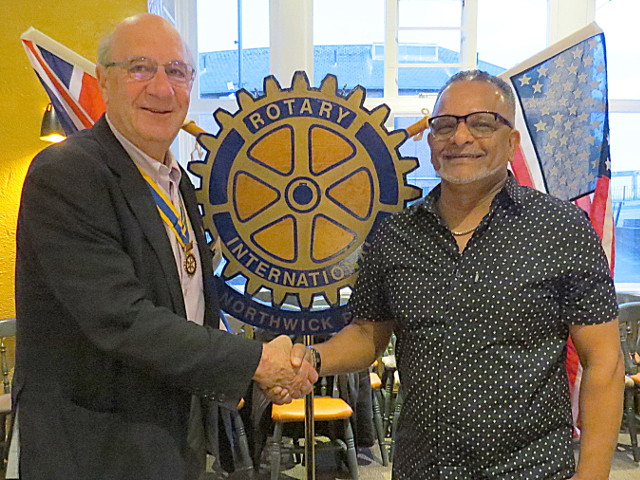 Our speakers on Wednesday 24 April 2019 were a team from Harrow Mencap, a local charity that is affiliated to the National Mencap organisation. But before Charlotte, David and Deven spoke to us we took the opportunity to catch up on recent events.  We had a report on the recent Council on Legislation, Rotary International's worldwide parliament, that took place in Chicago.   We received the greetings of the Rotary Club of Yarrawonga Mulwala in Australia, and heard about two fundraisers being organised by the Rotary Club of Mill Hill, and a long distance walk by Immediate Past President of the Rotary Club of Eccleshall Mercia.  We also learned about the new Dementia UK Club being launched by the Rotary Club of Hendon.
We then had a comprehensive talk on Harrow Mencap presented by Deven Pillay (Chief Executive), David House (Trustee) and Charlotte Thompson (Ambassador and soon to be Trustee).  The presentation started with the history of Mencap, and the work of Judy Fryd in the 1940s founding a Mutual Support Group for people with learning difficulties.  The Harrow group was founded in 1946 as a totally independent local organisation; it later became affiliated to the national organisation, and started using the Mencap logo.
The ethos of Harrow Mencap is to campaign for equality, to provide support for self-advocacy and to provide personalised services for people with learning disabilities.  The work for the 300+ clients is done mostly by the 120 staff – not all of whom are full time – and much revolves around providing opportunities and activities where people with a learning disability can be engaged and can participate.  The organisation has transitioned from being a grant funded one to being a provider of services to other organisations. We were also told of the vacancies they would like to fill on their main board.   This was an inspiring and informative talk, largely presented by those with learning disabilities.