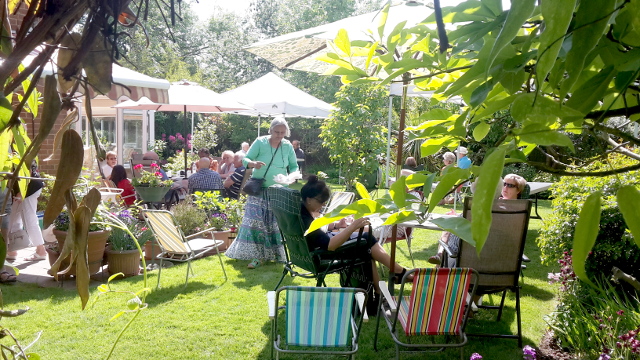 The sun shone brightly on Sunday 20 May 2018 for our International Meal held in the garden of one of our Members.
This popular event is always popular and it is easy to organise.  Each member of the Club that is coming is invited to bring a dish to the meal – usually a lunchtime meal at the weekend.  There is a little bit of juggling to do to make sure that we have a wide variety of food and not ten dishes of the same!
We each make a contribution towards the costs of the event, and then it is up to us what we choose to eat whilst we enjoy the conversation and sit in a member's garden.
Our Rotary Global Grant Scholar Lauren was also there, soaking up the sun prior to her examinations.  We all wished her good luck!
We call it an International Meal because we aim to have dishes from all over the world, and the proceeds from the event go towards the Club's International projects.  Being as lucky as we were with the weather also helps!