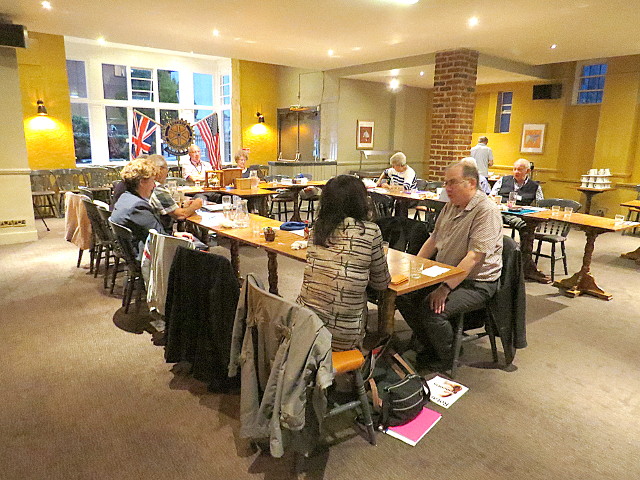 Our meeting on 15 August 2018 was a Business Meeting at which we discussed the Club's Projects and our progress on them.  Whilst our President and Secretary both had no announcements to make, we made up for that with reports from others Officers and Committee Chairs.
The Public Image Hat Trick was a double entry in the printed edition of the Harrow Times, covering the London Youth Exchange Camp and the Dementia Café opening,  supported by an on-line story with a photo-gallery for the Dictionaries for Life presentation at a local Primary School.  We are also making good progress on the Blood Pressure Day on 15 September, and the Pinner Village Show on 08 September.
We received reports on the start-ups we are supporting in Rwanda through Lend With Care and how the repayments have already started, and we heard about our soon-to-arrive Rotary Global Grant Scholar Katie from Canada.  We also had an update on our inbound and outbound Youth Exchange students.
We had an update on our 40th Anniversary Dinner, Christmas Collections, the new Club Credit Card donation machine, and much more.
We then had the presentation of trophies for the Rotary Year 2017-18 – delayed but much appreciated, and that was our meeting done.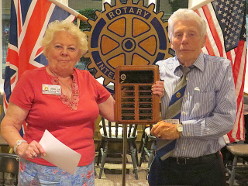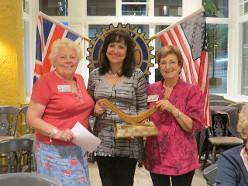 John with his plaque (by wizardry)      Helen and Sandy with the boomerang