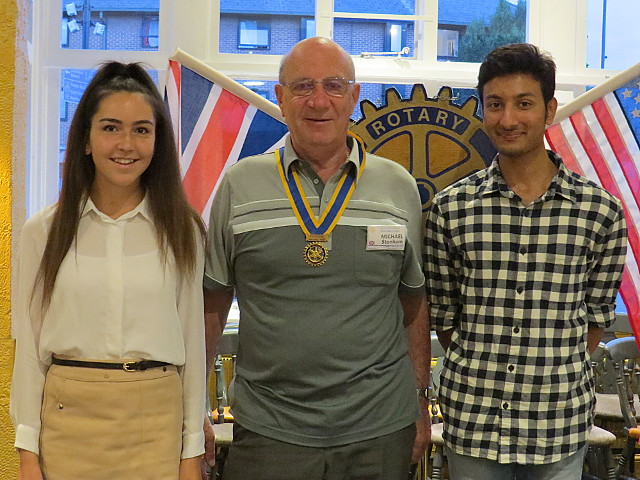 Our meeting on 08 August 2018 featured two Rotary Youth Exchange Students, Julia and Abbas, pictured above with President Mike who had visited Rotary Youth Exchange Camps overseas.  Before they spoke to the Club though, we heard that the Club had gratefully accepted the Jeremy Jessel Media Award for a third successive year at District Council on 26 July 2018, that the wife of a member had been involved in a serious car accident but was unscathed and recovering, and the difficulties one member had experienced with a probate problem.
We also had the presentation of the Fellowship Cup to the Parkers who had catered for the club at their home, providing Bangers and Mash to all the previous week.  We also had the installation of the Vice President (and Club Secretary) who had been away with the London Youth Exchange Camp.  We also learned that our friend Alan Hilliar would be collecting again from Helen's home on Saturday 01 September 2018.
We then launched into the presentations by Julia and Abbas who had both been away on Rotary Youth Exchange Camps.  Julia had been to Finland and had visited many lakes there – there are over 3 million lakes in Finland – waterfalls, markets, towers, played volley-ball, gone to a pop concert, a zoo and much more.  She had learned about felting, rug painting (very Finnish), fishing, newspaper production, paper making and much more besides.  None of us could understand how so much could be fitted into an 8 day visit!
We then heard from Abbas who had been on a camp last year in Italy, and this year on a two week camp in Switzerland.  Both camps concentrated on cross country trekking, with the Italian camp had been based around Lake Como and the Swiss camp based around Orsières.  When the weather had not cooperated, there had been museums and cultural visits.  At other times, life was spent in the high Alps with an opportunity to learn about self-reliance, stamina and working with a team.  There had been sleeping under the stars, rock climbing, mountaineering and a 5-day trek based on Mountain Cabins in the area.
Both youngsters had developed personally from learning about the natural world, from working with many young people from other countries, and how enjoyable time can be without Social Media and the Internet!  Both were effusive in their thanks towards the Rotary Club of Northwick Park for their life-changing experiences.