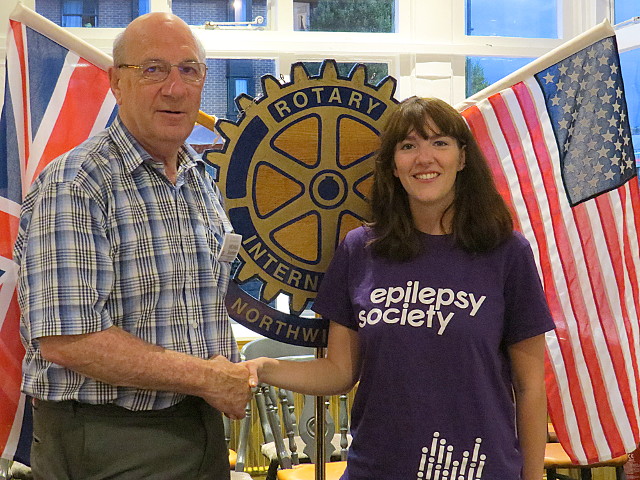 Our speaker on 22 August 2018 was Emma Darlington of the Epilepsy Society who came to talk about the condition, the Society and its work.  Before that however we had a little business to get through, and were able to congratulate our member John on being appointed Chief Steward at our national conference next year.  Our President also reported on his visit to Rotary Ridge at the National Arboritum.
In response to the current spate of disasters, the Club decided to purchase a Shelterbox as a stock replacement, and also supported the children in Kerala through Mary's Meals.  It was then the turn of our speaker.
Emma described how the Epilepsy Society had started in 1892 under the direction of John Passmore Edwards, with a view to removing the myths that epilepsy was contagious, or that sufferers had been 'demonised'.  Emma gave us the facts:  there are approximately 600,000 sufferers in the UK, and roughly one third have seizures that cannot be controlled.  87 people are diagnosed each day, and there are currently 40 different types of seizure.  There are three groupings of sufferers: Symptomatic, or based on a physical event or condition; Idiopathic, or inherited genetically; and cryptogenic, where the cause is still unknown.  Less than 3% have seizures brought on by flashing lights!
The Epilepsy Society operates from Chalfont St Peter, utilising 8 residential properties adapted to house about 100 people at a time.  As well as organising activities for the sufferers, they also run an on-line advice centre and a telephone help line.  There is an MRI scanner on site and there is the Sir William Gower Research Centre there opened in March 2012.  The Society is currently engaged in a £10m project research the genomics of Epilepsy.
Questions from the floor covered Cannabis Oil, non-medical referrals, the nature of brain electrical activity and the drugs available.  A surprising number of Rotarians described epilepsy sufferers from within their families.  Thank you Emma for an inspiring and most professionally delivered talk.