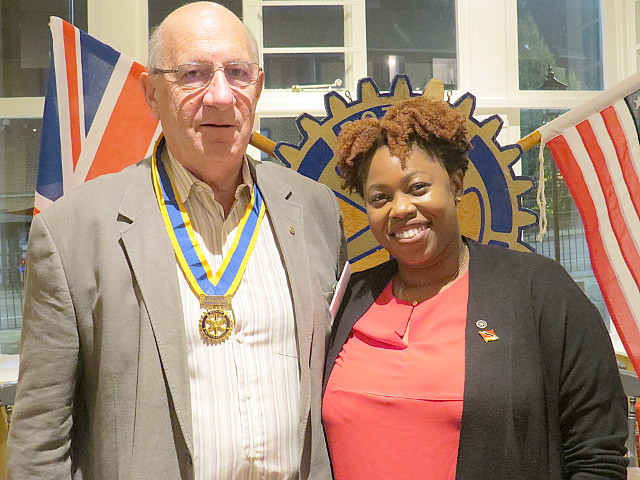 Our meeting on 10 October 2018 was a Business Meeting, but certainly one highlight of the evening was the visit by Rotarian (and former Rotaractor) Cindyann Currency from the Rotary Club of Port of Spain in Trinidad and Tobago.  Listed amongst the apologies for the meeting was the sudden change of menu with two favourites not available on the night!
In the good news spot were a lucky escape from a computer virus scam, a find of scrap metal in our planter, a 62nd Wedding Anniversary, a brown envelop from ERNIE and a second crop of figs in one summer – thanks to the long hot spell and the mild autumn!
We then had reports on the various projects including plans for Rotary Day 2019 (23 Feb), getting the visit to our club by the "World's Greatest Teacher" on 17 October into the local press, the North London Disability Games, the Dementia Club, the Mary's Meals Porridge Day in North Harrow and the children's Back Packs, and the progress promised on our Grant Project.
Some of the Christmas Collection Dates were announced, and transport to the Metropolitan Police Choir Concert in at St. John The Evangelist, East Dulwich Road SE22 9AT was arranged.
And with that the meeting was over.  Next week, our meeting is "With Partners" so we expect a bumper turnout for the World's Greatest Teacher!