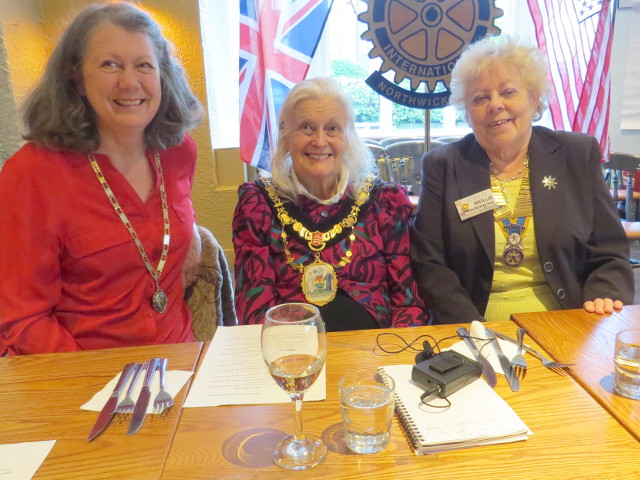 The Worshipful, the Mayor of the London Borough of Harrow, Councillor Margaret Davine (centre), accompanied by the Mayoress Marilyn Devine (left) visited the Club on 25 April 2018.  But before the Mayor addressed the Club we had a long list of visits, including one to an Inner Wheel Conference in Melbourne, Australia!  The Club was asked to seriously reconsider its decision to go to the Pinner Show, and agreed to halve the size of its pitch at the show.  We were reminded of our Salt Beef Brunch event, and told that a decision on where any proceeds from the meal should go will be made after the event.
Our Kids Out Day planning is going well, despite the committee chairman still being in hospital.  The coach is now booked, and visitors are welcome to support the event at Paradise Wildlife Park on 13 June 2018.  We are also looking at getting involved in refurbishing the pavilion in the Kenton Recreation Ground Bowls Club along with our friends in the Rotary Club of Edgware and Stanmore.  Members were reminded that support is required for the Dementia Club on 16 May 2018 and 20 June 2018.
And then the Mayor spoke about her year in office which ends in May.  The Mayor has lived all her adult life in the Borough, and thought she new Harrow really well.  Her year as the first citizen in the Borough however has acquainted her with many new things in Harrow.  There is such a wide diversity in Harrow in terms of religion, culture, heritage and so much more.  The Mayor started her year with the trip to our twin town Douai, in North Eastern France, where she road in the Fêtes des Gayants parade in a Tumbrel, the horse-drawn cart that took the aristocrats to the guillotine!  Other highlights included the Mansion House Walk for the London Mayors, the Kenton Light Opera performance of Godspell, the Christmas Concert of the Harrow Choral Society, the London New Year's Day Parade in which the Borough won second prize for its entry, and her visits to the Harrow Women's Centre, her chosen Mayoral Charity for the year.  In all, it was an extremely busy year.
After a series of questions from the members, the Club's vote of thanks was proposed by President Mollie, even though there was a past mayor in the audience!