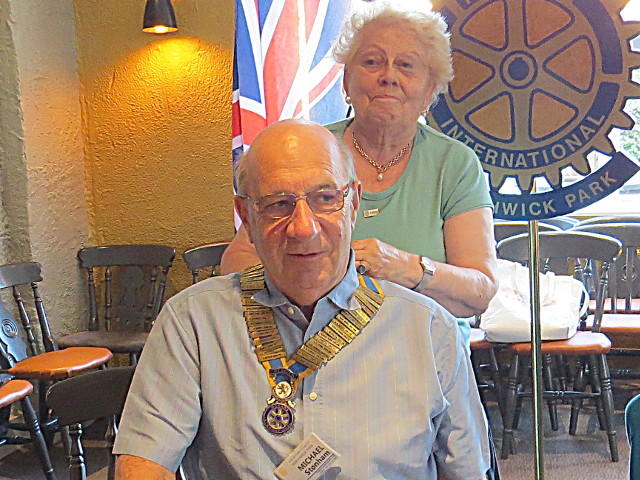 Our meeting on 11 July 2018 was the Club handover with the installation of our New President for 2018-19 Mike Stonham.  The fact that it coincided with a certain soccer match somewhere to the East was reflected both in terms of the cheers and groans from the bar next door, and in the paucity of numbers present.
Outgoing President Mollie thanked all the members for their support, and described the year as being both Hits and Misses.  Some of the high points included the Macmillan Coffee Morning, the Metropolitan Police Choir, the Christmas Collections, the Youth Makes Music Concert and the International Meal.  We had also set up a Dementia Club, and played a full part in the District Activities.  None of the Club's trophies were presented on the occasion.  And with a final "Thank you", Mollie handed over the chain of Office.
President Mike then introduced the President Elect, Rachelle and the Vice President and Secretary Di, who was absent, recovering from an eye injection.  And with that, the normal business of the Club continued.  With there being no HUB editor, there was a discussion concerning the status of the Friends of the Rotary Club of Northwick Park.  The decision was that membership of the Friends would now be free of charge!
The Club will not be meeting on 01 August 2018, as there is a fundraiser that evening at one our member's homes.  Our next meeting on 18 July 2018 would be with the youngsters attending the London Youth Exchange Camp.