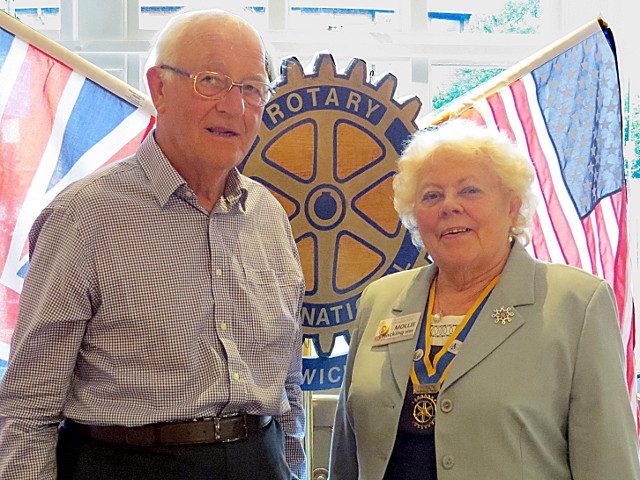 Our speaker on Wednesday 30 May 2018 was Brian D'Olier who had spoken to us in August 2016, but this time his talk described the exciting adventure of a violin.  But before he spoke to the Club, we heard about our Blood Pressure Day at Morrisons, Hatch End on 08 June 2018, about visits to Edinburgh, Norwich, Training Sessions and a plant sale!
The last time Brian spoke to the Club, it was to tell the story of his wife (Pat) and her family's escape from the Nazis in Germany, and later Belgium, as extracted from a stash of letters that had been inherited within the family.
One aspect of these letters concerned the Gibson-Huberman Stradivarius violin.  The link to the instrument was found in a letter where Pat's uncle Peter wrote "I heard Huberman with my Royal Colleague – we had the best seats in the hall". Peter was being taught violin by Bronislaw Huberman, and he had attended a concert where the seats had been booked by Elizabeth, Queen of Belgium.  At the concert, Huberman had played on his Stradivarius violin.
We followed Huberman through his refusal to play for Adolf Hitler, his rescue of Jewish musicians and their families from the Nazis and their relocation in Israel as The Palestine Orchestra – later to be the Israeli Philharmonic. Arturo Toscanini had agreed to conduct the new orchestra.  Whilst performing on his Guarnerius violin at Carnegie Hall, he left his Stradivarius in his dressing room and it was stolen from there.  It is widely suspected that it was another violinist that stole the instrument, and he had played it himself for 50 years after disguising the instrument with boot polish.  The thief made a deathbed confession to his wife, claiming that he had bought the instrument for $100 in a bar!  His wife was therefore able to claim the reward, and lived off the proceeds!
The instrument was eventually restored by Charles Beare, and was bought by the late Norbert Brainin OBE, first violinist of the Amadeus String Quartet.  It is currently owned by American violinist Joshua Bell.  The Gibson-Huberman has definitely had an 'interesting' time since its creation in 1713, but its life is by no means over.  The Club were very appreciative of this story and Brian's presentation of it.