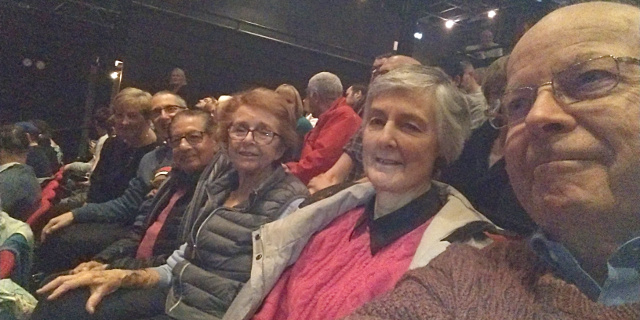 Once again, the Club made a visit to the Chickenshed Theatre in Southgate to see a performance of Charles Dickens' A Christmas Carol, set in the 1930s rather than the 1840s.
The Chickenshed Theatre is an inclusive theatre company, with performances of the highest professional standards from a performers of all ages.  Chickenshed is based on a belief that everyone can flourish when everyone is included. Creative activities and self-expression can so often seem off-limits to many people – and this includes within the world of theatre. Chickenshed wants to break down the barriers between people, and create a world without labels, where differences no longer divide. They bring people together who would otherwise never meet, and never get to know each other.
Setting the story in the austerity of the early 1930s worked brilliantly.  As shown above, Ashley Driver as Scrooge is apprehensively led by the Spirit of Christmas Past played by Gemilla Shamruk.  With a minimalist set for some of the scenes, we were instantly located in Ebeneezer Scrooge's bedroom, or a factory, or the street scene where Scrooge's possessions were sold off.
Bob Cratchit's  enormous family – with more than 30 children! – warmed out spirits with their enthusiasm, and Tiny Tim was a true delight.
Surely one of the highlights of the show was Mr Fezziwig's Christmas Party where Scrooge first appreciated the true spirit of Christmas, being treated as a member of the family even though he was just an employee in Mr Fezziwig's business.
Photographs of performances are strictly prohibited, and we are most appreciative of the excellent photos published by Natalie Greco which are shown in this post.