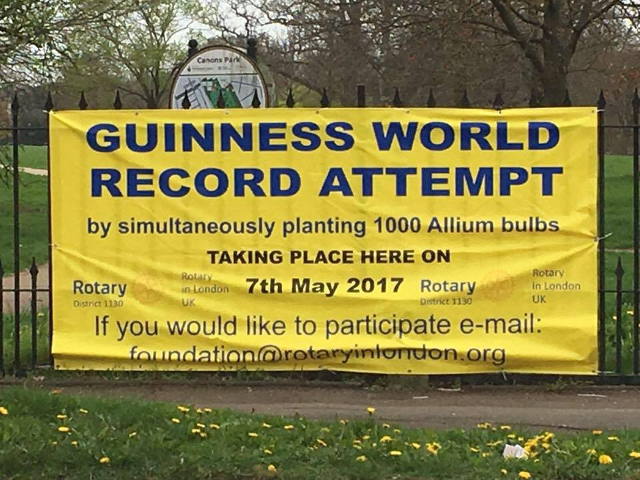 In what promises to be a very busy week, the Club met for a discussion meeting and tidied up some of the procedural details.  At the same time, the Country was committed to another 7 weeks of electioneering, and the Community put the final plans on its World Record Attempt (see above).
With training for Club Presidents on Thursday evening, Friday will see our involvement in the Wheelchair Relay – a round UK and Eire Wheelchair relay race visiting each of the Spinal Treatment units in UK and the Republic of Ireland. Saturday is our blood pressure check day at Morrisons in Hatch End – and everyone is welcome to have a free reading without any obligation whatsoever. Sunday sees the London Marathon with Marshalling duties, an After-Race Party, and a walk around Old Highgate Village.
The Club is taking part in the World Record Attempt at Canon's Park, Stanmore on 7 May 2017, when we hope to pass the record for the number of people simultaneously planting a plant. We hope to see lots of the public on that day and will have lots of activities.
To top it all, the following were elected to the Club Council: Pankaj, John C, John E, Jo, Ros and Sandy.  And once they had been elected, we had a discussion on the General Election called earlier that day in the House of Commons.  That vote had an overwhelming majority – let's hope that we elect a government with a similar majority!