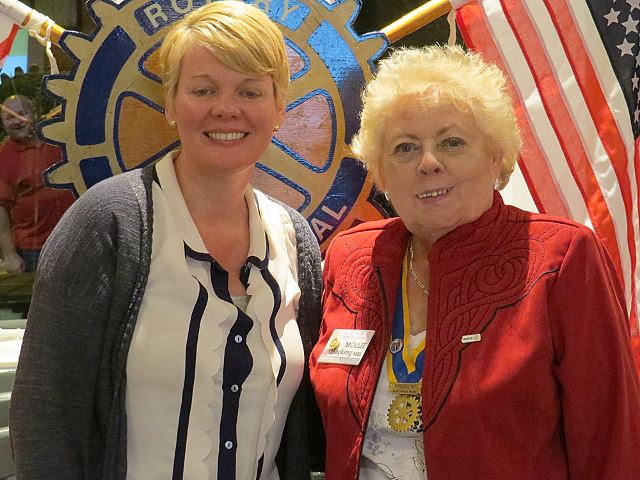 Our speaker on 20 September 2017 was Nicky West of the children's charity Honeypot. Nicky is the daughter of a Rotarian in the Rotary Club of Harrow – our next door club – and was a Rotaractor in the Rotaract Club of Harrow.  Members were invited to support the Rotary Club of Harrow's Beaujolais Night on 16 November 2017!  Members were also told of the recent publicity Rotary had received with Bill Gates, Martin Clunes, the One Show and several other sources talking about Rotary's work around the world.
Nicky then described the work of Honeypot (honeypot.org.uk) – a charity providing respite for child carers at their two Honeypot Homes, one in Brockenhurst in the New Forest and the other at Pen y Bryn in mid-Wales.  There is also the Honeypot Play Bus which travels around England and Wales for those children too far from the two homes.  By virtue of a PowerPoint and a video we saw the work being done for children in the age range 5-12, who act as carers doing cooking, washing, cleaning and caring as well as just being children.  Often, school work suffers for these children, and that is one way in which they come to the attention of Honeypot.
Honeypot ensures that each of their 1,000 children receives a birthday card and a Christmas card, and subject to location, has the chance to spend three weekends in a year at a Honeypot House where the emphasis is on fun, friendship and play rather than caring for an adult. The Play Bus makes up for those too far from the Homes. As Pen y Bryn comes on-line, they hope to be able to expand to 2,000 children – that is 2,000 of the estimated 195,000 child carers in the United Kingdom.  The children are collected in a Honeypot Minibus, and taken home at the end of the weekend the same way. Honeypot pays for the care that the adult receives whilst the child is at a Honeypot House.  We also saw children playing in the Honeypot Play Bus in the video.
This was a moving story for a worthwhile cause delivered with great sensitivity by Nicky. In the year where our theme is "Rotary: making a difference", the members saw helping Honeypot as just one way in which that difference could be made.