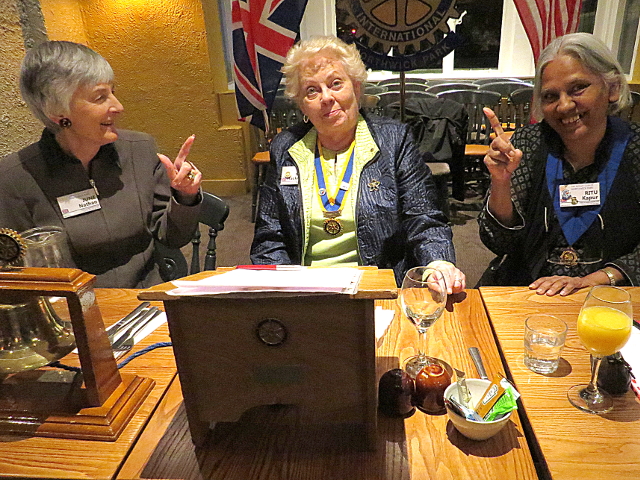 With over 1/3rd of the Club absent, it was not "Business as usual" for the Club at their Business meeting on 13 September 2017!
We had the usual list of Good News items, with one member glad that a gale had finally brought to an end to the runner beans coming from their back garden!  We also had a couple of birthdays to celebrate, but many members no longer see those as good news!
Our stand at the Pinner Village Show the previous weekend had made a small profit, and the funds will be used for buying toiletries and consumables for children in a Treatment Centre near Chernobyl in Ukraine.  The Club very much hopes to be in the Pinner Village Show next year.  We had the usual update on the Club's financial position, and teams were put together for the London-wide Sports Competitions between the Clubs in London.
The Club has decided to apply for a Rotary Grant for a programme organised locally for pre-school children to help them socialise and develop language skills, although the deadline is in two day's time.  We also had a report on the Northwick Park Hospital Garden that we look after.  There is some work to do there!
Our next major collection of aid for Ukraine will be collected on 23 September – mainly toiletries and consumables for children.  The Club voted to replace another 3 Shelterboxes, given the terrible drain on stocks following the disasters in Sierra Leone, Bangladesh and the Caribbean as well as many other places. The Club also voted to spend £100 on a Micro-finance Project using one of the approved Rotary Schemes.  That should be enough to start two local small businesses in the countries where these projects thrive.
Members were reminded that our new Scholar would be visiting the Club in October, and they were asked to ensure they ordered Rotary Foundation Christmas cards.  The Foundation Appreciation Dinner will be on 15 November, and the bagel brunch will be at the Parkers on 19 November.
Lastly volunteers were sought so that local Schools are invited to join in our Youth Competitions, in particular Public Speaking, Young Chef, our Technology Tournament, Photography, Music, Writing and Art competitions.  The members were also reminded that the President of Rotary International in Great Britain and Ireland will be coming to the District Council Meeting on 4 October 2017 at the Lancaster Hall Hotel.  And with that, the meeting was done!