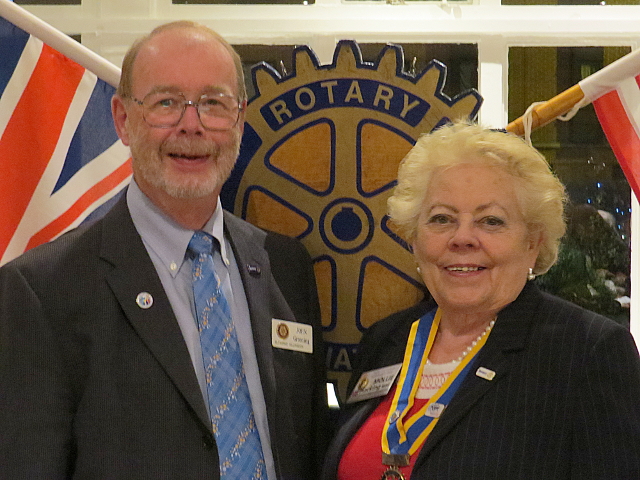 Our speaker on Wednesday 29 November 2017 was Past District Governor John Greening who comes from our neighbouring District 1090, which covers the Thames Valley and part of Buckinghamshire.  John was accompanied by his wife Joan who had spoken to the Club in November 2016! The meeting was with partners and was well attended.
After the usual reports of Good News and Visits to other Clubs and a full list of Events, it was time for John to speak.  He described how he had started a project, based from the locations of Rotary International Conventions, to visit all 50 states of the United States.  Whilst visiting St. Paul in Minnesota, he had happened upon the 'Hill House' in the city and started to connect the name 'Hill' to many of the city's locations.
The Hill in question was James Jerome Hill, born in Eramosa Township in Guelph, Ontario, Canada in 1838.  He had left school at 14 following the death of his father, and started work – initially as a bookkeeper, and then as a freight clerk in St Paul. Later  he was drawn into general freight management, and his interests in coal and shipping soon made him a wealthy man.  He ended up with a local monopoly in both.  That led to directorships in banks, where he specialised in building up previously bankrupt businesses and selling them on at a substantial profit.  He put his substantial success down to "work, hard work, intelligent work and then more work".  He ended up owning railroad companies that linked St Paul to Seattle in the West and Chicago in the East.
He also understood that buying additional land when building the railroad was essential, as this was then sold to homesteaders looking for opportunities.  He ensured that the railroad took them out there, and then shipped back the wheat and the cattle they raised.
James Hill moved in the same circles as JP Morgan, Edward Harriman, William Rockerfeller, and Jacob Schiff.  At his death in 1916, he had amassed a fortune of $53m, and with his wife Mary Theresa, had produced ten children.
John will be at the Toronto Convention, and will use that opportunity to visit more states. A fascinating insight into a 19th Century tycoon's life, that demonstrated 'The American Dream' that was possible then.  Next week's meeting will be our Special General Meeting.
After the talk and the vote of thanks, the Fellowship Cup was presented to the Parkers following their Bagel Brunch on 19 November 2017.