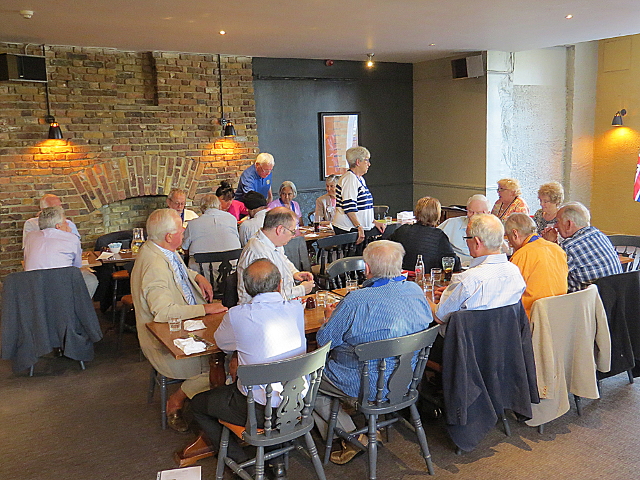 Our meeting on 12 July 2017 was a Business Meeting with a major question to be debated.
Before the meeting got under way we had a visit from Julia, a young student off to a Youth Exchange Camp in Europe who came to collect two Club Banners that she can exchange with other Students on the Camp.  We look forward to receiving the banners that she brings back in a few weeks.  We then had our usual Good News section which included a 53rd Wedding Anniversary!
There has been a change of dates in September, with the District Governor now coming on 06 Sept (and not 27 Sept) and so our Club will be able to take part in the North West Area social meeting on 27 September.
We then moved on to the Big Debate.  A decision will be needed at a meeting being held at the end of the month where all the Clubs in London will be taking part.  The plans are still marked "Commercial in Confidence", and so we cannot discuss the matter here.  From time to time decisions like this arise, and everyone was given a chance to express their views.  Our voting representatives noted that everyone present voted in favour of the plans.  We also had a treasurer's report which included the recommendation that our 'Wine Raffle' be assigned to buying toiletries for Felsted Aid to take to the Revival Centre in Ukraine – a proposal that was agreed unanimously.
Information about our Scholar studying at LSE was announced – she comes from Connecticut, USA.  There is also a plan to apply for a District Grant for one of our new projects. We also had a detailed report on International Projects including the District Chairman Francis coming to speak on Classroom Box on 9 August, and the Club's Annual International Lunch on 20 August to be held at the Myrants' home.  Community projects included the Dictionaries present in the last months of 2016-17, and the Disability Games being held at Aspire on 15 October 2017.  Sadly our Vocational Service Chairman has resigned the role, but the Parkers agreed to step in as substitutes.  We also had Fundraising details including the Metropolitan Police Choir Concert on 11 November and the Bagel Brunch on 19 November.
The meeting finished with an invitation to attend a special opportunity to visit the Ceremony of the Keys at the Tower of London.