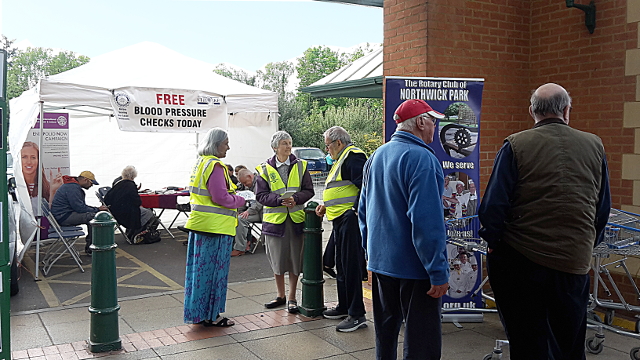 Most of the members of the Club were present at Morrisons Supermarket at Hatch End on 22 April 2017 for our Annual Blood Pressure Day.
The event resulted in 97 people registering at our Gazebo outside the store, and we are delighted to report that none of those tested this year required immediate referral to an Accident and Emergency department.
The whole purpose of the exercise is to detect members of the public who are susceptible to a stroke, as there is often little or no warning – apart from elevated blood pressure – before the stroke happens.
Rotary Clubs across the country were doing similar checks as part of our national Know Your Blood Pressure day.
The Rotary Club of Northwick Park is indebted to Morrison's Supermarket, Hatch End for their support and for allowing us to set up outside the store.