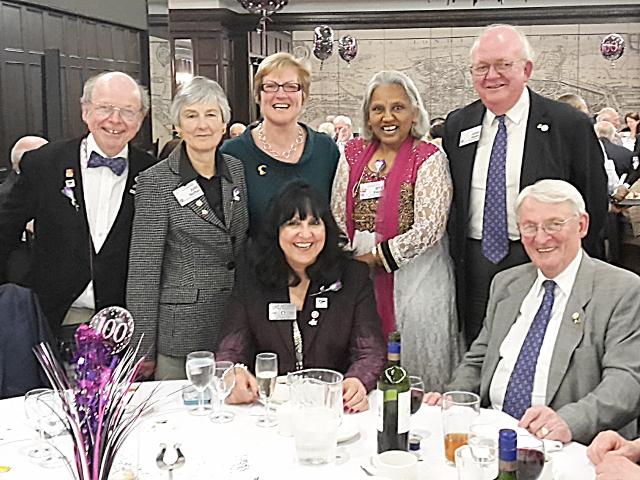 Members of the Club took part in the special dinner organised in Central London on Tuesday 25 April 2017 to celebrate the Centennial of the Rotary Foundation of Rotary International.
With some 150 attending the event, it was well supported, with nearly all the Clubs in London represented.  Speakers included Dennis Bloomfield from the Rotary Club of Barking who spoke in tribute of the late Robert Hunter, who started the idea of an Annual Rotary Foundation Dinner in London.  Next came the incoming President Elect of Rotary International in Great Britain and Ireland, Debbie Hodge who spoke about the difference that the Rotary Foundation has made around the world, both at the global level and at the level of individual lives overseas. And finally, we had a talk from Rotarian Geoff Mackey who used his projector to show us some of the funnier sides of life as seen from his point of view.  At the end, our District Governor proposed a Vote of Thanks to all the speakers.
There was an abundance of canapes before the meal and a welcoming glass of prosecco followed by an interesting meal, dessert, coffee and mints.  The food was enjoyed by most of those present.
This will probably be the last Rotary Foundation Centennial Dinner we will attend, and it was definitely an enjoyable evening we will remember for a long time.