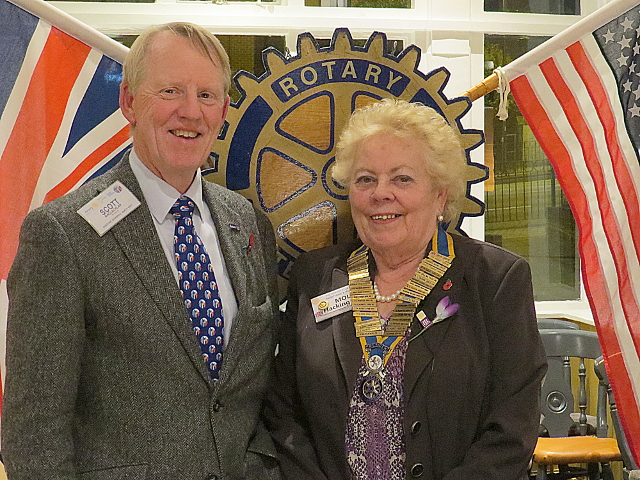 Our meeting on 1 November 2017 was headlined as an official visit from our Assistant Governor, Scott Maclachlan, but before he addressed the Club we had some business to get through.
Under the heading of "Good News" we had an anniversary of a first date, we heard about a young musical prodigy staying with a member, and finally about a successful flotation on the stock market.  We also heard about visits to an Inner Wheel function and to a former Rotaractors' reunion in a nearby pub!  Not under the heading of good news however was the decision to cancel our Club Meeting on 15 November 2017.  Whilst a good number will be at the Rotary Foundation Appreciation Event that night, those not attending will have to find another event if they want to do a 'make-up'.
We then heard an excellent summary of the District Conference in October from our newest member Joy.  As well as speaking well on the event , she had brought a friend to the meeting – Berna.  Well done Joy!
Then to a shout of "Scott's home early" our Assistant Governor addressed the Club.  Scott also spoke about the Conference, and praised Joy's summary.  He then spoke about the opportunities for the Club to join with its local community, including the presentation of certificates and working with the Waitrose supermarket chain from the John Lewis Partnership.  He also touched on the District Quiz, and the importance of recording goals in the Rotary Club Central system – essential now in the context of the Presidential Citation.  He also mentioned the benefits from using the Rotary Show Case.  He then commented on how important it is for Clubs to get together at social events like the one that he had organised.  He closed by wishing the Club well for the remainder of the Rotary Year.
Please note in your diary – no meeting on 15 November 2017.