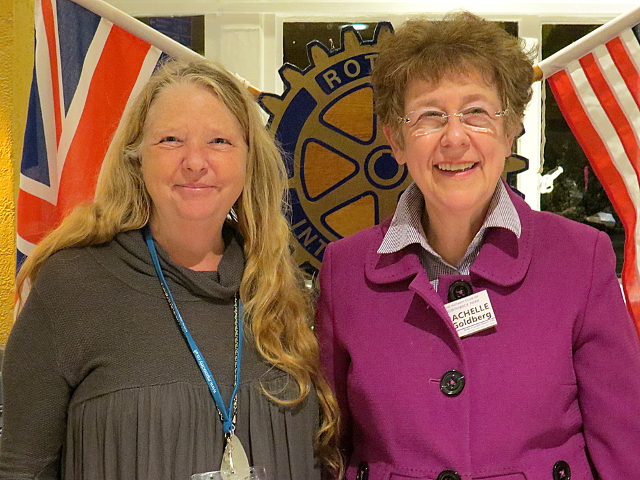 Our speaker on 25 October 2017 was Amanda Minett from the MPS Society, but before Amanda spoke there were reports on the visit to Riga for the Rotary International Institute there, the planting of the 50,000 crocuses at the Olympic Park, and the plan to stop publishing the Rotary Magazine on paper.  There were plans for the Bagel Brunch on 19 November and the Christmas Edition of our Newsletter for Members.  All was expertly handled by President Nominee Rachelle, who was in the chair.
Then we learned about the MPS  Society. MPS stands for Muco-Poly-Saccharidiosis – a family of conditions where there is an enzyme deficiency.  There is a group of enzymes in the human body that are dedicated to removing or recycling waste chemicals, particularly sugar carbo-hydrates.  If there is a deficiency, the waste products build up and eventually can lead to a terminal condition.  The majority of suffers are children under the age of ten.  The typical rates of occurrence vary between 1 in 50,000 births and 1 in 200,000 births.
The MPS Society provides a wide variety of services in this area.
They fund conferences for parents of the children suffering from one of the 25 MPS diseases, so that they know more about the condition, and the MPS Society funds the child care so that the parents can attend the conferences.
They fund awareness and fundraising events so that more people know about and understand the condition.  Each year, 13 May is MPS Day and a variety of events are organised on that day.  People are invited to wear something blue on that day, eat blue food and drink blue drinks!
They fund research into the condition and into how it can be treated.  One problem is diagnosis, as many MPS children are wrongly diagnosed as having ADHD.  However, unlike ADHD, language skills start to fail between 7-8 years of age, and then the child's memory starts to deteriorate.
They also provide a source of information on a worldwide basis for researchers, clinicians and for the parents of sufferers seeking treatment trials.
The Club had made a donation previously, which had allowed the parents of a local child to attend a conference in Coventry whilst MPS Society trained carers had looked after the child.  The parents had benefitted from both new information and from the respite.
Well done Amanda for a first class presentation on a devastating medical condition.