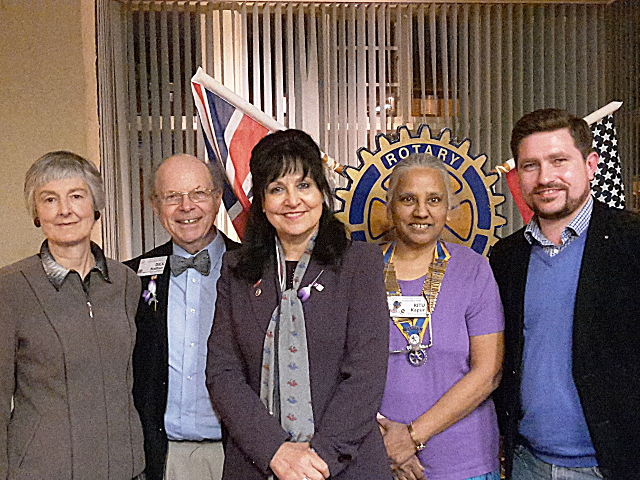 With so many members of the Club away at District Council, there was not a large turnout at the Club, but as we always say in the Rotary, "The Quality was there!".  And on the evening we had an international event that we shall all remember.
Firstly, our speaker – the Club Honorary Treasurer June Nathan (far left in the photo above) – chose to speak about the holiday she and her husband, Club Webmaster Dick, had taken in Sicily in February.  The one week break had included visits to Rotary, Inner Wheel and Soroptimists, as well as the obligatory museums, markets and churches.  It was an educational week that included a lecture on the Florio Family, a lecture on a stolen altar painting, and a meeting with Catarella from the Young Montalbano as played by Fabrizio Pizzuto.
Secondly, we had a visit from Rotarian Yevgen Poltenko (far right in the photo) from the Rotary Club of Kyiv-Citi, the club in Ukraine who had partnered the London District on the Minibus Project that had taken place during July 2015.  Two members of our Club will visit Ukraine in June 2016, to see how this project has produced measurable results for the people of Chernihiv in North Ukraine and to prepare our final report on the project.
Well done June for an excellent talk, and well Northwick Park for keeping international at the forefront of the Club's activities.