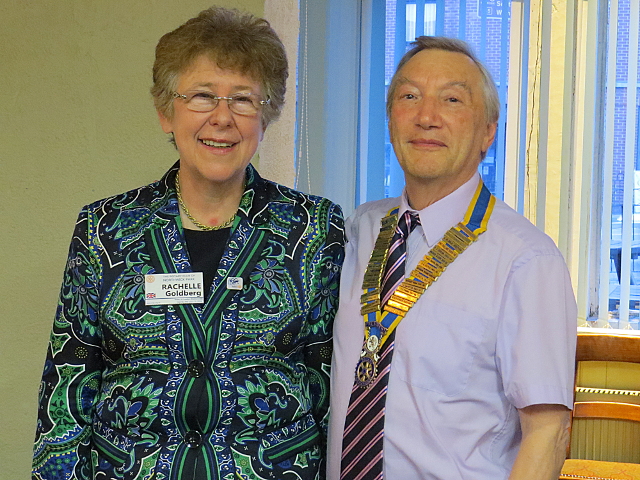 The new Rotary Year got off to a great start with the transfer of Rotarian Rachelle Goldberg. Rachelle (which is pronounced "Rashelle") has been a member of the Rotary Club of Hounslow for many years, but with a move of home back to Harrow – she grew up and was educated in Harrow – she has decided to transfer to our Club. Her classification is Musician.
Visitors were present to see Rachelle's transfer, and we also had the distribution of the Club and the District Directories.
We have a new President Nominee, who will be in the chair as President for 2018-2019 – Mike Stonham, who is currently our Assistant Secretary and also an Assistant Governor for the London District. We also had some amendments to our Club Directory, which will be incorporated with the next version of the document.
Our member Di King, who is running the London Youth Camp which is underwritten by our Club, had been honoured with a Paul Harris Sapphire at the District Handover on the previous Sunday, and Helen – now District Governor – brought along her Purple4Polio Teddy from the same event, and announced that she had purchased another 20 teddy bears!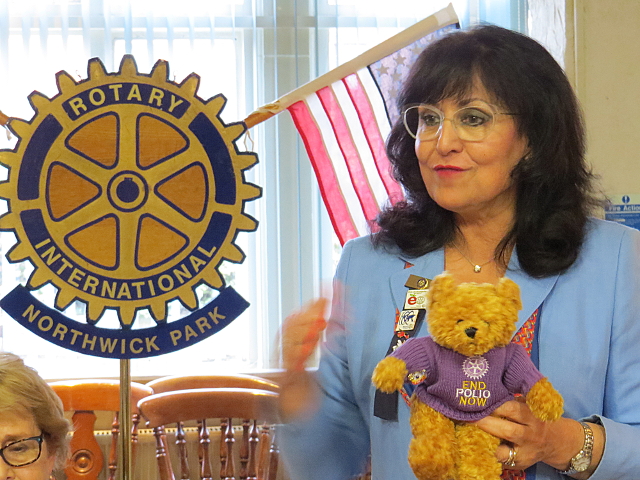 Mike Stonham had attended a Past Presidents' Dinner with the Rotary Club of St Marylebone, President Elect Mollie had attended the handover at the Rotary Club of Wembley.
DG Helen expressed her appreciation for the support and presents she had received at the District Handover event on Sunday 03 July 2016.
Amrit gave a short talk on his strategy for booking speakers for the coming year, and hoped that he would be able to steer round the political turmoil currently facing the country.  2016 is certainly going to be a year that goes down in the history books.
Sandy reminded members that our International Lunch will take place on 21 August 2016 at her home, and President Eric reminded us that we will not be meeting at our normal venue on 20 July, 27 July and 3 August whilst refurbishment is in progress.
And with that, our first meeting of the year was complete.