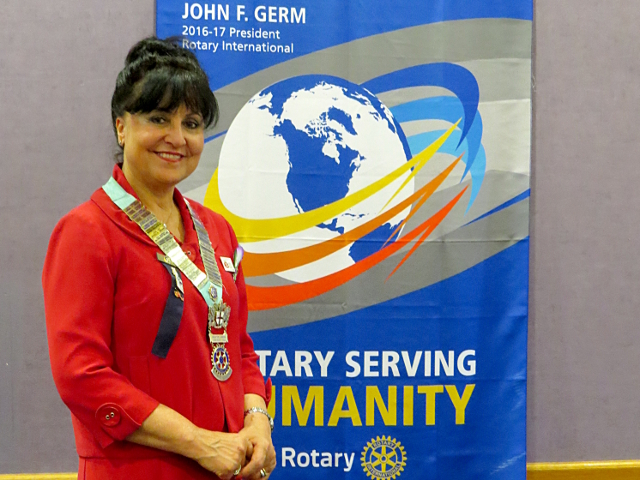 Our Club Member, Helen Antoniou, was installed as District Governor at a surprisingly long lunchtime event at the Watford Hilton Hotel on Sunday 3 July 2016.
Helen's path to Governor was accelerated suddenly with the passing of her predecessor Jeremy Jessel back in March 2015.  However, she demonstrated her true mettle with an inspiring and motivating speech covering the goals for the coming Rotary Year.
Our Club was also featured at the event with the award of the Jeremy Jessel Media Award, a trophy created to mark Jeremy's interest in all things technical.  The award was presented to Immediate Past President Ritu and Club Webmaster Dick by Immediate Past District Governor Toni.  The Club also presented a Certificate of Appreciation to Celia Baker, the widow of our member David Baker, in recognition of his service and an extremely generous donation to the Club in his memory.
Immediate Past District Governor Toni Finkel made a number of other presentations, and a specially created water-colour painting was raffled during the event. Rotary International in Great Britain and Ireland President Eve Conway-Ghazi was also at the event launching her "Purple4Polio" campaign.