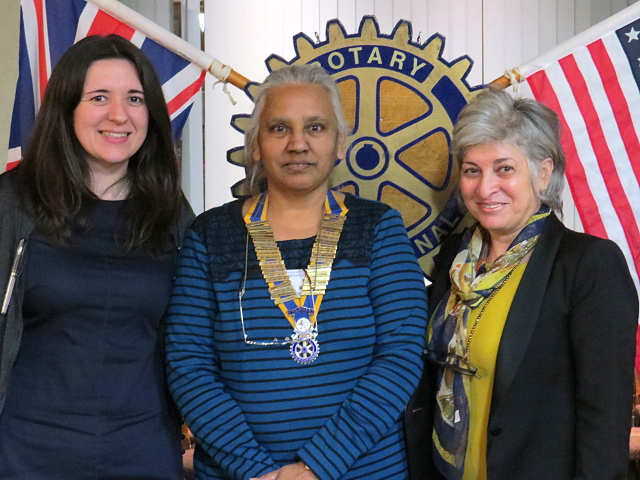 Our speakers on Wednesday 27 January 2016 were Lorna Snuggs (left) and Helen Boyle (right), a former member of the Rotary Club of Northwick Park, both of the Migrant Children's Foundation, China.  However, before they spoke we heard of the 22+ bags of plastic milk bottle tops being recycled for London's Air Ambulance, our Quiz on 19 March 2016, and the Club's progress in the District Sports Competitions.
Helen started by describing how she had left the UK 8 years ago, for a sabbatical year in Beijing.  She discovered how people leave the rural and tribal areas of Western China with their children, and arrive in the East of China hoping for work.  What they discover is that they are no longer entitled to free education and medical care in their new location, as their identity card shows from where they have migrated.  To attend school, or to receive medical attention, the parents are required to pay.  That often results in the migrant children having to forgo health care – including spectacles – and education.  Helen set up The Migrant Children's Foundation with the aim of filling the gap – for parents and children alike.   At the end of her sabbatical year, she needed more time, but none was forthcoming from her employer, and in the end she was obliged to terminate her employment so that she could stay and continue her work in China.
Helen and Lorna provided details of several cases from a variety of families. A family of four living in a room 4 metres square reminded many members of our experiences in Ukraine, even down to the family using a 'string wardrobe' and sleeping on the 'kang'.
Fundraising in the UK provides necessary resources in mainland China.  The rules for fundraising and for charities in China seemed very strict.  We learned that with monthly wages for many migrants vary between £50-£100, and the phrase 'Cost of Living' has a totally different meaning for them from our usage.
Thank you Helen and Lorna for your talk and the insight you gave us.  The Club made a donation to the Migrant Children's Foundation at the end of the talk.