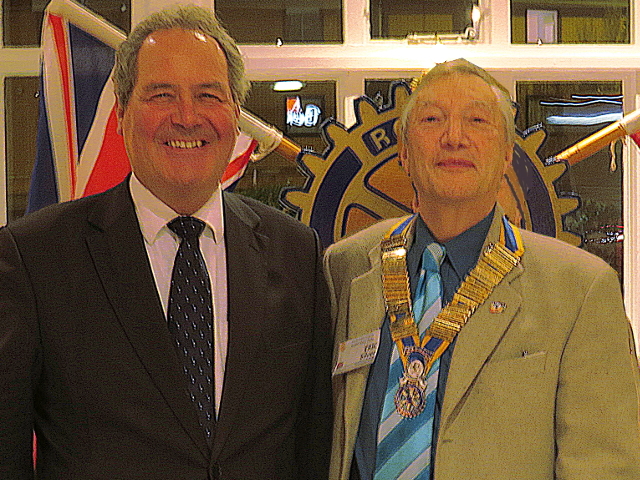 Our speaker on Wednesday 30 November was a member; but not a member of our Club – rather the member in the House of Commons for Harrow East since the general election in 2010, Bob Blackman MP.  But before he addressed the Club we dealt with urgent business concerning the Christmas Collections and the duty roster for the collections.
Bob had grown up in Wembley, and had gone to the same schools as members of the Club. He had then studied at Liverpool University, and finally decided that a career in politics was his chosen vocation. He had been a local councillor for 24 years before finally being elected to the House of Commons in the General Election of 2010.
His talk dealt with three major experiences he had had in his career as a member of parliament. The first was the day he first went to the Houses of Parliament, trying to find his way around the building and the offices opposite whilst the media wanted interviews. Members of Parliament do not have a permanent staff in place when they win a seat, and have to get organised in very quick order.
The second experience was that of living life in the public's view, and the consequences for him and his family of being a constituency member. In six and a half years, he had dealt with 28,000 requests and appeals for help from the public in his constituency. His constituency office had been 'fire-bombed' twice resulting in black smoke going everywhere and ruining everything in the office.
The third experience concerned his principal activity at the moment – his private members bill going through the house at the moment.  Bob talked about the process by which the candidate bills are selected, and the consequences of the position in the ballot. His bill, entitled "The Homlessness Reduction Bill", is progressing well but has a cut off date at the end of March if it is to become law.  The Bill is less concerned with Housing Provision, and more concerned with how the homeless are dealt with by the local authorities.  If successful the bill will change the law in England and Wales, but not in Scotland and Northern Ireland although MPs from those constituencies will have a vote!
Questions dealt with Brexit, Career Ambitions, the forthcoming decision of the Supreme Court on Brexit, the Homelessness Bill and the relationship of Tolerance and Extremism in our society.  A fascinating talk delivered with much humour by an accomplished speaker.