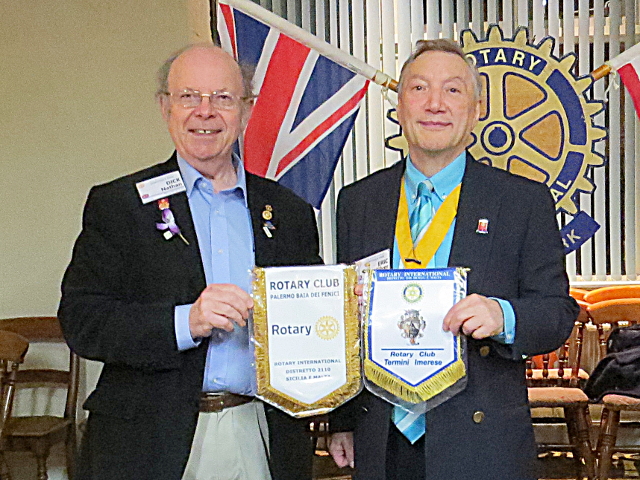 On Wednesday 02 March 2016, we had a business meeting with news of our members and our projects.  Several Club members are "under the weather" at the moment with their health, and with their families, and the Club spared some moments for them.
We had a report on a long list of visits around the country, and overseas.  Members of the Club had also been involved with several of Rotary's Committees, including the formation of new clubs in the heart of London.  The photo above shows our member Dick, who with his wife June managed to meet up with a meeting of 4 Clubs in Sicily who shared a conference on the "Montalbano effect".   He presented the banners they received to President Elect Eric, who chaired the meeting in the absence of President Ritu.
We had a President's report, a Secretary's report and a Treasurer's report.  We heard about our Attendance figures, our performance in the District Sports competitions, and the prospect for the summer sports and our Club's Programme.  On Community Service, the Club supported the Easter Egg project, and wanted to know about progress on the Bench Refurbishment project in the local hospital.
We had a brief report on our International Projects, and our achievement of raising over £300 for the World's Greatest Meal project.  The Club also agreed to support a Global Grant Scholar coming to London, and we had a report on the Youth Competitions and the Youth Exchange Programme.  The Club agreed to fund the prizes for the top three local Young Artists and Young Photographers.  Members are looking forward to the Quiz Supper Night on 19 March 2016.