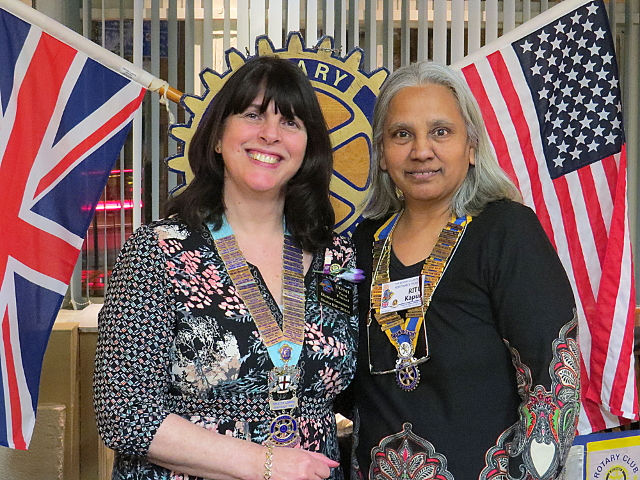 On Wednesday 09 March 2016, we had a busy meeting with the visit of our District Governor Toni Finkel, as well as another visit from Rotarian Joy Ogbechi from the Rotary Club of Abuja Metro in Nigeria.
Featuring on a long list of visits to other Clubs and various Committee meetings, were the Club being presented with a Certificate of Recognition for our voluntary work in the London Borough of Harrow (below left) and a visit by the Parkers to the Rotary Club of Eilat (below right).  There were also updates on some of our projects in the community.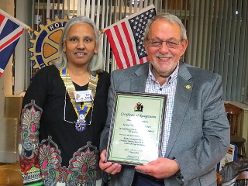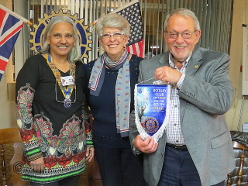 District Governor Toni then addressed the Club, speaking about the priorities for our District – in particular bringing our District into 21st Century with Social Media and the use of the Internet.  She announced that half the Clubs in the London District are now using the central system for recording our annual goals, allowing the figures for all the Districts in the world to be added together.  Toni described how new members of Rotary Clubs are coming from this effort.
Toni also promoted giving to End Polio Now and to The Rotary Foundation, Rotary's own charity fund.  Clubs are also embracing change across the District, she said, experimenting with different styles of meetings at different times of the day.  Her own Club was trying meeting at different times on different weeks in a month.  Some Clubs are now buying advertising on Facebook at a fraction of the cost of a local newspaper.  In summary, she described it as a great year of change for Rotary in London.