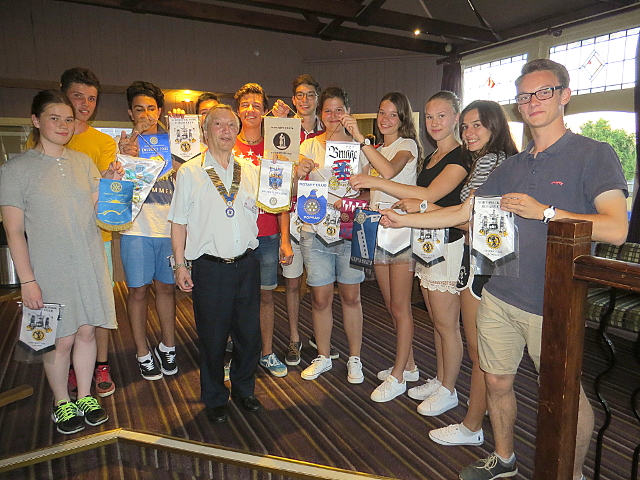 On 20 July 2016, the London Youth Exchange Camp came for a visit to our Club to see a London Rotary Club, and to exchange their sponsoring Clubs' Banners for a Northwick Park Banner.
With another blisteringly hot day, members of the Club met at our normal venue, but outside our normal room which is being re-decorated, and hosted 11 youngsters who were on a two-week event organised by Rotary so that they could experience our culture and history, and at the same time forge friendships with young people from other countries that hopefully will last a lifetime.
The countries represented (in alphabetical order) were: Austria, Belgium, Croatia, Finland, France, Germany, Iceland, Italy, Romania, Slovakia and Spain.  You will notice that all of these countries are in the European Union, but in the current political climate the youngsters were far too polite to mention that fact!
One Camp member was due to arrive from Turkey, but in the current climate in that country, the young person was unable to come for the two-week programme in the United Kingdom.
The eleven youngsters – who all spoke wonderful English – are an excellent example of the international understanding, good will and peace that Rotary promotes.