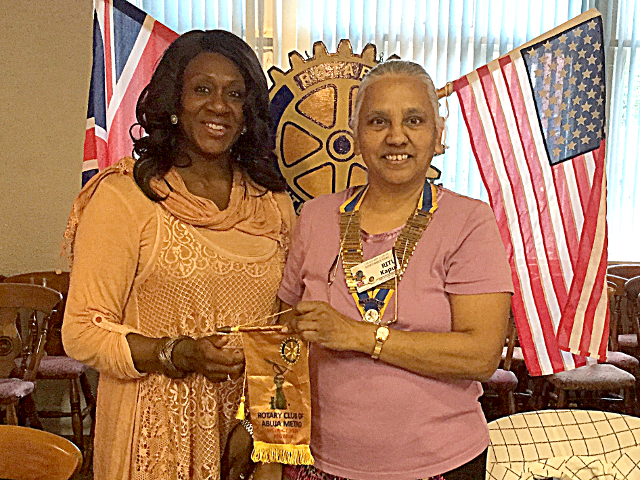 All Rotary Clubs hold an Annual General Meeting, and ours was held on 11 May 2016.
With President Ritu in the chair, and just one visitor – Joy Ogbechi pictured above with our President – there were reports from the Service Chairmen, and the budget was agreed for next year.  Then the various representatives for next Rotary Year were elected.  There were reports on our Youth Service Projects, our work in the local and international community, and there was a review of our charitable donations during the Rotary Year.
Joy Ogbechi, who is a Rotarian in the Rotary Club of Abuja  Metro in Nigeria presented our Club with her own Club's banner, and invited members of the Club to her Book Launch taking place at the Harrow Arts Centre on Friday 20 May 2016 at 3pm.
Lastly, our venue is being refurbished!  Sadly we will have to relocate for our meetings on 27 July 2016 and 03 August 2016, but we are already looking forward to enjoying the redecorated function room where we meet when we return.