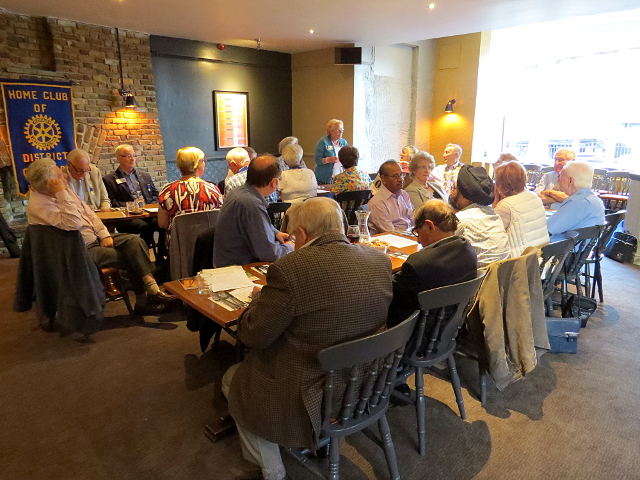 The Club was back at its normal venue on Wednesday 10 August, and it was back to business as normal as well.
Our meeting on 10 August was a business meeting, and a lot of business was discussed. Reports included visits to other Rotary Clubs, our appearance again in the Harrow Times on-line pages, and the interest expressed by their reporter in Rotary's Helivan project for London's Air Ambulance Service.
There was a reminder that District Conference Registrations go up at the end of the month, and news of forthcoming speakers.  We also heard that the Sports forms will be out next week, and the Club will be visiting "POETS Day", a new play by former member Mark Brookes at the Compass Theatre in Ickenham.
There will be the North London Disability Games again on Sunday 16 October, but before that, the Club is planning another Know Your Blood Pressure day.  There was an update on the bottle tops, and an announcement on spent ink-jet and laser cartridges which go to St Lukes Hospice.  Sandy is busy planning our International Lunch on 21 August, and putting together a programme for our visitors from Sacile, Italy, in March 2017.
Di is putting together a video presentation of the London Youth Camp, using footage recorded by one of the camp members, and is hoping that it will be shown at the District Conference.
The newly refurbished venue looks nice, and a new regime for ordering food worked well.  We are promised that the curtains/blinds will be back next week!