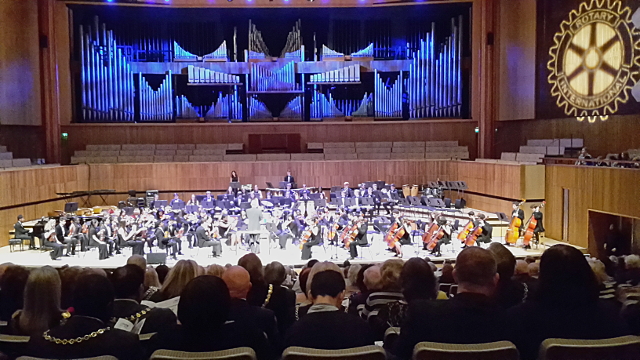 Many members of the Club made their way to the Royal Festival Hall on Sunday 22 March 2015 for the Biennial Youth Makes Music Celebration organised by Rotary in London.
The purpose of the concert is to celebrate young musical talent in London and give young musicians a chance to perform on an internationally recognised concert platform. The experience for the youngsters can be life changing, and whilst some are already accomplished performers, others will remember the day for the rest of their lives.
There were more than 300 youngsters on stage spread across 17 'turns' with the music varying from Classical Choral works, through barbershop, Indian ragas, African drumming, and steel band to film scores, pop, musicals and jazz. Also included was the extraordinary Barn Dance and Grey Mouse by Luciano Berio where musicians in a wind quintet are required to play and declaim lines – fortunately not at the same time!
The show was compere'd by the incomparable Ellie Chrisell from the BBC, and put together under the management of Rotarian Clive Denham. A truly wonderful evening of music with something for everyone performed by the youth of London.