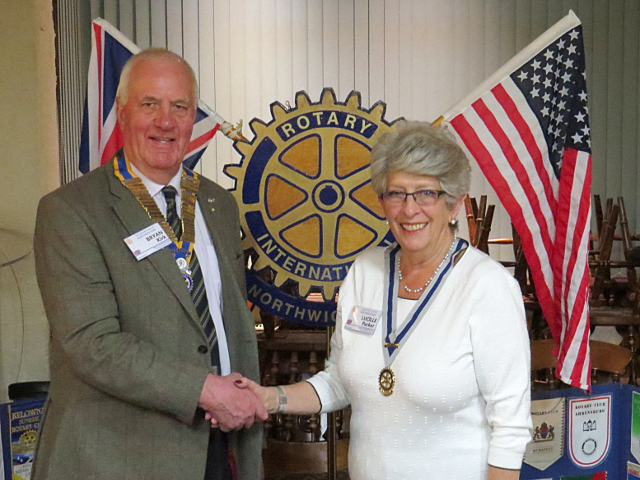 Our speaker on Wednesday 25 March 2015 was our own Club Secretary, Lucille. Lucille followed her father into freemasonry and has risen through their ranks into various positions of authority. She brought her own support team to our meeting, being three lady "brothers".
Lucille explained that freemasonry for ladies has an interesting history in the United Kingdom. It arrived here from France, but ladies were never recognised by the men, and had to form their own organisation. Possibly in order to seem 'more like the men than the men', the ladies have adopted all the terminology and rituals of the men  – hence Brother Lucille, Past Master of her lodge – even though they are still not recognised by The Grand Lodge based in Great Queen Street, London.
Lucille repeated the saying, "Freemasonry is not a secret society, but a society with secrets", a truism that underlines an important difference between Rotary and Freemasonry – even though some masons think the two organisations are similar. Lucille was careful however only to describe how the 'secrets' were acquired without actually detailing them.
Lucille also made clear that 'Belief' in a supreme being was a requirement to be a freemason, thereby concluding that Rationalists, Humanists and Atheists cannot be masons – another important difference from our Rotary ethos. The bases of freemasonry are 'Brotherly Love','Relief' and 'Truth'.
An interesting insight into an organisation that maintains its secrets, and still requires its members to abide by the discipline of learning rituals by heart. Another difference from our world of Rotary.