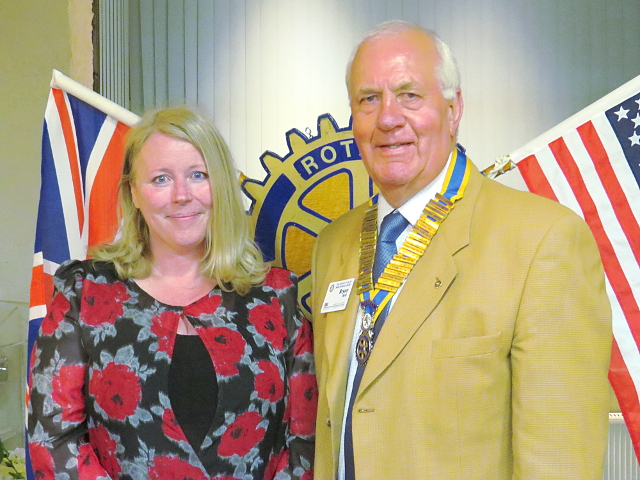 Our speaker on Wednesday 15 April 2015 was Maria Gray, who is involved with training programmes run by the Metropolitan Police.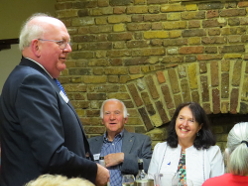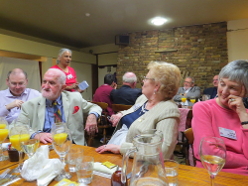 Before that we had a double birthday to celebrate (see photo on the left) and also we had a detailed report on the Rotary International in Great Britain and Ireland (RIBI) Conference from Ritu (see photo on right) dealing with both the serious and the funny aspects of a most enjoyable weekend in Northern Ireland. Most importantly, the dues paid to RIBI were set at £49 per member per year! Added to that, June announced the winners of the sweepstake were Dick (1), Len (2) and John E (3).
Then we moved on to the serious business of the evening – a talk on the training programme given to the Metropolitan Police on "Dealing with Abuse of Vulnerable People". The programme had been developed, in part. following the incidents reported in the BBC Panorama programme on Winterbourne View Care Home. Some of the most distressing scenes in the programme were viewed by the Club. We were alarmed to hear of the 28 police visits to the home prior to the broadcast of the programme, and the subsequent closure of the home. The problem we were told was that there was no clear procedure for assessing abuse, and no mandatory procedure requiring reports to be actioned.
The training programme provides police officers with a definition of abuse of vulnerable people that can be used in interactions with the public and with other officers, a means of assessing the vulnerability, and how to look for specific behaviour and aspects of danger in the environment – both to the parties in the alleged abuse and to the police. A clear escalation procedure is then followed resulting in records being available to several disciplines, and being placed where they can be used by professionals dealing with the problems.
The abuse of vulnerable people, in the family and in care homes is on-going, and the new procedure has already more than doubled the number of cases being reported in the previous year. The programme is cost effective, we were told, as matters get escalated earlier in their development, but there is more cost as more abuse is detected.
A difficult subject that provoked much discussion. Well done Maria for your work and for bringing your professional skills to bear on introducing the subject to our Club.