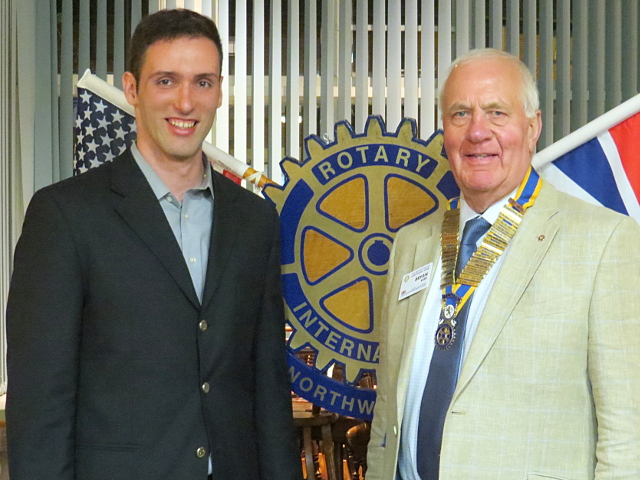 Our speaker on Wednesday 08 April 2015 was Mike Matthieson, a Rotary Global Grant Scholar from Miami, USA. Mike had been postponed at short notice from speaking to us on 01 April when the club decided to cancel its meeting in deference to the District Assembly Dinner (reported here.)
Before Mike rose to speak to the Club, we had our AGM Part 1, with Honorary Members being elected (the Mayor, Peggy, Harold, and Melvyn), and the 6 Ordinary Members of Club Council being elected (Sydney, Stuart, John C, Helen, Pankaj and Stan). Sydney was re-elected as the accounts examiner, Ros and Dick are our District Reps, with Ritu and Helen as the Backup Reps. Part 1 was then adjourned until Part 2.
Mike Matthieson then introduced himself, coming from Brazilian and Lebanese heritage,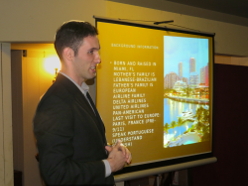 and living in Florida. Both parents had careers with airlines, but Mike has chosen a different path. Before studying PPE in Health at UCL, he had delivered a programme similar to the Rotary Global Grant scholarship in the University of Miami, and broadcast two regular chat-show programmes on a local radio station WVUM (90.5FM). The chat shows were in the field of politics and political achievement, and he related his experiences with President Obama, former President Clinton, and with Madeleine Albright, Condoleezza Rice and Hilary Clinton. Those experiences will not be retold on this web site!
Mike's has two areas of study. First is "Social Determinants of Health" – does wealth lead to good health? Apparently more so in some places that others! Why does access to wealth lead to good health in some parts of the USA more than others? Why does access to wealth lead to poor health in parts of India? What is going on and what can a government do about it?
His second area of interest is "Behavioural Economics", a very exciting field of study as demonstrated in the UK with the Behavioural Insights Team, and given the soubriquet in the popular press of the NUDGE factor. This field of study has a long and stellar history, and was demonstrated in the 1930s in New York. Users of elevators complained that the lifts in their building were intolerably slow. Rather than re-engineer the lifts, the building owners put mirrors beside the lift doors in the lobbies. People forgot the passing of time when they could look at themselves (and others!) in the mirrors. Similar examples of using behavioural techniques have been tried with car theft problems, tax payment chasing, teenage pregnancy and drug use. All the techniques have produced some positive results.
Questions covered from Mike's future plans, the differences between Health Care in the UK and USA, and the scholarship programme Mike had operated whilst in the University of Miami. An inspiring and informative talk with a matching vote of thanks from Sandy.