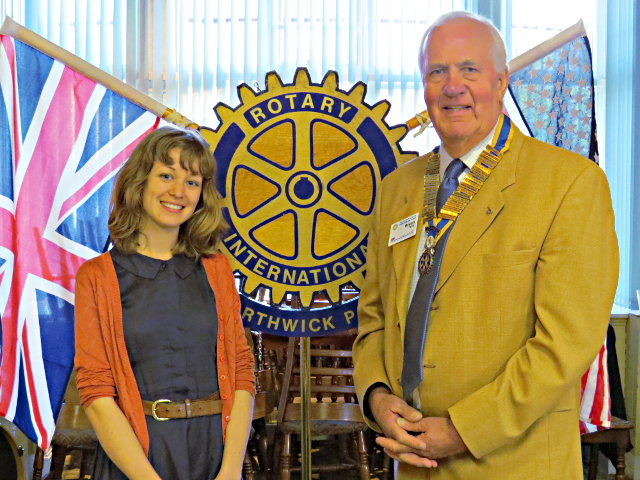 Our speaker on Wednesday 22 April 2015 was Rotary Global Grant Scholar Tess Bright, who was sponsored on her scholarship by the Rotary Club of Melbourne, Australia.
Tess has had a career that has been entwined with Rotary. Originally from Tasmania, she relocated to Melbourne for the university, and graduated in Clinical Audiology in 2010. Whilst working in a Melbourne hospital, she heard about an opportunity to travel to East Timor. There she was to help a surgeon working on Ear, Nose and Throat (ENT) patients. Whilst she was in a small village, advising mothers who had children with a variety of common low-income diseases, she heard about Rotary. She liked what she heard, and was inspired to do more. This led to her volunteering as part of a team going to Vietnam's imperial city, Hue.
She worked there with a NGO that had bought audiology equipment, but none of the local people had been trained in its use. She seized the opportunity, learned Vietnamese and trained 5 people in the use of the equipment! They have since passed their skills on to more people, and a Vietnamese Audiology Service is now emerging. Rubella has been a problem in Vietnam, and there is still much work to do with the consequences of the disease in pregnancy.
Whilst studying Public Health here at the London School of Hygiene and Tropical Medicine, Tess has met Sir David Cox (well known health statistician), Dr Margaret Chang (Director of World Health Organisation) and Professor Peter Piot, who identified the Ebola virus. She has exams in June and then starts on her dissertation on Disability Statistics in India and Cameroon.
An inspiring story from a most capable scholar – well done Tess!