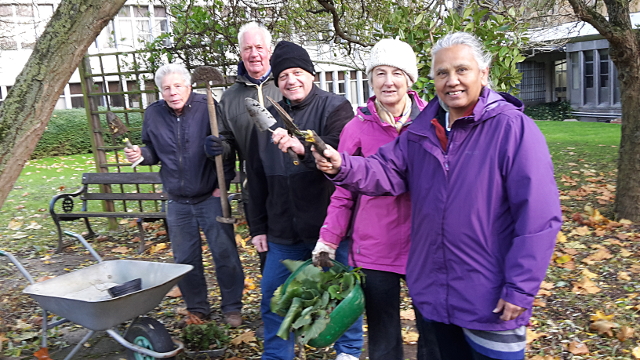 Although it snowed first thing in the morning, and then rained and blew a gale, by the time our team of gardeners arrived it had dried up and warmed up enough for work to begin on preparing the Rotary garden in the centre of Northwick Park Hospital for next spring.
In addition to our famous End Polio Now purple crocuses, we were also busy planting a selection of Primulas, some Bergenia Purpurea, and some Saxifraga x Urbium (London Pride – in a container!).  All the plants were chosen for their ease of care, and their durability.
There is still some work to do with the trellises but the whole area is now looking much better than it did.  With some refurbishment of the benches, it will be back to its normal floriferous self!
Our thanks go to all the gardeners for turning out on a November day!